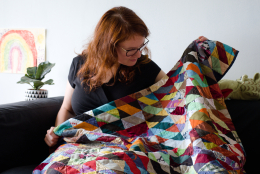 Teaching style of Kick Ass Quilts
My signature quilting style is the basis of the Kick Ass Quilts teaching style. The method focuses on empowering you to create textile goods that express your own values and creativity: to create quilted items to use that have meaning for you with reclaimed fabrics.
The teachings also guide you in the mindfulness aspect of quilting. Quilting creates an anchor of peace in your life and helps to de-stress. It gives a moment of contemplation for yourself, while creating items you want to use during your day.