A circular craft centre is a place where the 3 pillars of sustainability come together for an inclusive, sustainable future for everyone. Restore is one organization striving to do just so.
Introduction: Restore sustainable clothing?
Earlier, I was invited by Henk to visit the Restore clothing magazine. He gave me a tour of the Restore circular craft centre (Circulair ambachtscentrum, Dutch) to show me how they sort, mend, and sell donated second-hand goods. Second hand stores are one way to have sustainable fashion.
I love second hand stores because they are a home for all kinds of people, second-hand textiles, and low-budget treasures.
Also, they give textiles they can't sell to Kick Ass Quilts to use in my workshops. In this way, they support my initiative, like they also support other sustainable textiles initiatives in Ede by donating textiles.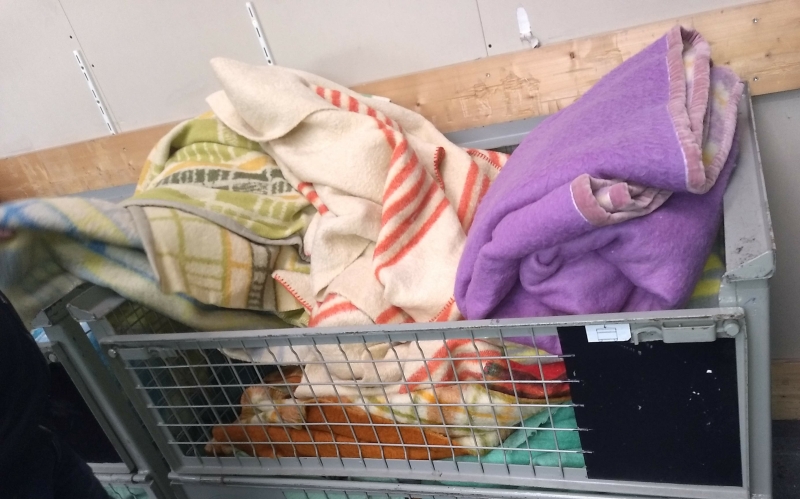 Sustainable quilt batting: woolen blankets
I decided to interview Roelf and Henk to get to know them better and how they handle the clothing they get. Also, we talk about Restore's efforts towards circularity and sustainable textiles
'The solution is global, but starts local. People need to buy better stuff, but the problem is so big now we need to fix it globally'
Second-hand clothing and the Restore second-hand store
So we are Roelf and Henk? 
Roelf Jager:
Manager and first responsible for the Restore foundation. He has a background in retail, government, and education. 
Henk Van Loo:
Work leader workshop textile where they collect and sort textiles. He has a background in ICT. 
Restore is partner of the mother organization ACV group (a waste disposal company). Restore is a foundation, which means their aim is not profit, but the common good. The money they make is used to run the organization. . 
Restore has 3 pillars, environment; people; and low-budget,  which are also the pillars of sustainability. 
Watch the interview: 
Some facts on the textiles they collect
Restore collects 1.37 million kilo clothes / year. 
188 people work at Restore. They are an inclusive workplace, which means they offer opportunities to everyone.
They collect clothes in 5 towns: Ede, Veenendaal, Renkum, Wageningen, and Renswoude. In total,l that are 260.000 people who donate any kind of stuff.
Non sellabable articles, they try to refurnish, sell somewhere else, or to find industrial partners to recycle it.
Around 9-10 % of the donated clothes can't be recycled because it's dirty or wet.
Only 6% of donated clothes is good enough to sell in their  shops
Restore collects all kinds of textiles, not only good quality clothing. They do that because they are not only a second-hand store, but also a circular craft centrum. This means their aim is to create circularity in Ede, of which selling second-hand items is one pillar. 
For example, they also have a workshop where they fix electronics and bikes to re-sell. Also, they offer job opportunities to people who have trouble finding a job otherwise.
Note: Not every second hand store is capable of recycling non-wearable clothing! So, please, check your local places before donating
What happens to the clothes that are donated?
Best quality goes to the Restore shop to be sold. The b-quality, which is non-plastic, whole wearable clothes, goes oversees. They sort between winter and summer to send it to the right countries. Unfortunately, they cannot control who oversees ends up gets the clothing. However, they do use certificates that guarantee sellers they buy good-quality clothing. 
'It's terrible what happens in Africa and other places. Almost makes us feel ashamed to be in the sector. So we try the best we can.'
Good clothes also go to clothing bank and places like that.  Around 9% of the clothes can't be recycled because it's either wet or dirty. Unfortunately, those clothes get burned.
Second-hand stores: Accessibility good quality clothing
Fast-fashion is not good for recycling because it leads to low-quality clothes and clothing with plastics. Plastics in clothing is hard to recycle.
However, a second-hand store is a place for people to buy good clothes. Especially when the store makes sure only the good-quality clothes get sold. 
It was shocking / interesting for me to hear that's only about 6% of everything they collect! Something to think about when your next shopping for clothes. Buy good-quality! 
Also, this means that most of the clothes Kick Ass Quilts gets from Restore are non-wearable and perfect to quilt with!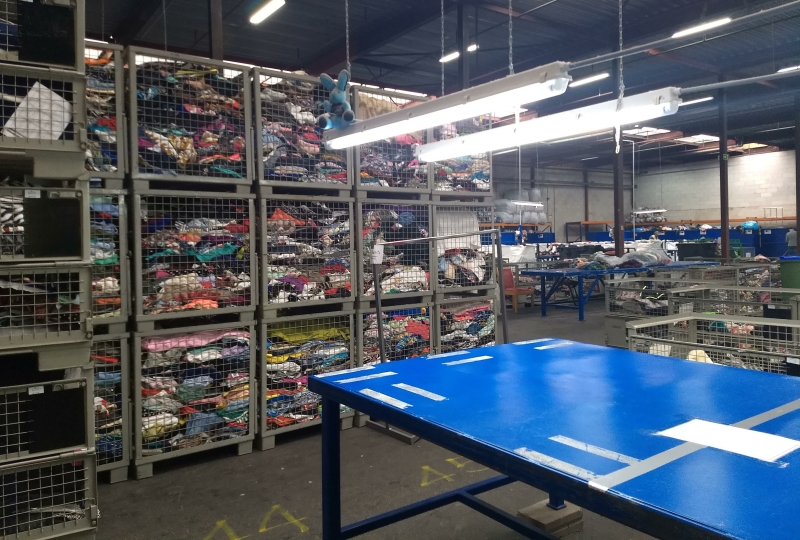 Sorting room donated textiles
'Re-use to prevent waste, is better than profit for us. So we also help local clothing ateliers and initiatives'
Conclusion: Sustainability lessons from Restore in Ede 
It was an interesting talk! I learned about the potential and challenges of collecting and recycling clothes and to make circular craft centrers. Some highlights. 
Fast fashion with low-quality clothes with plastic are hard to recycle and re-sell. So it's important we all minimize consumption and buying (bad-quality) clothes.
Combining a second-hand store with a circular craft centre is a huge opportunity to collect and recycle all kinds of textiles, beside selling clothes. Also, it dips into the 3 pillars of sustainability: 
Planet: Recycling clothes and reducing the need to buy and manufacture new clothes and other items. Also, circular centres encourage mending and finding recycle opportunities for all kinds of old textiles.
People: They offer job opportunities for the marginalized and also enable poorer people to buy good-quality items they need. Also, they create a spirit of buying second hand and good quality of textiles. Lastly, second hand stores are also a place of connection of many different kind of people.
Profit: The shop parts makes sure Restore can run its organization consistently without relying on external financing.
The potential of circular crafts centres
Circular craft centres have huge potential to work towards a sustainable world for everyone. A sustainable future is only possible if everyone can be a part of that. Circular craft centres are one way to make that happen. 
Kick Ass Quilts is also happy to also host a 'Kick Ass Welcome Quilts' pop-up in the Restore shop in Ede. During the workshop, we are going to make a welcome quilt to be donated to refugees from old clothes. In this way, Kick Ass Quilts is proudly part of the circular economy around textiles in Ede and the global world! 
However, as always, the first step is to reduce the amount of clothing produced, because there is simply too much textiles to recycle. So,reduce, reuse, and recycle!
Ps. The workshop is 20th of April from 14.00 to 17.00. You can come any time you want. I'd love to know if you're coming though, let me know in the comments! 
Questions:
Which new information surprised you the most about second hand stores and circular craft centres?
Are there any questions you still have? 
Do you shop second-hand, and if yes for what kind of items?

Let me know in the comment, so we can have a discussion. Also, any remaining questions I'll ask next time I see Roelf or Henk.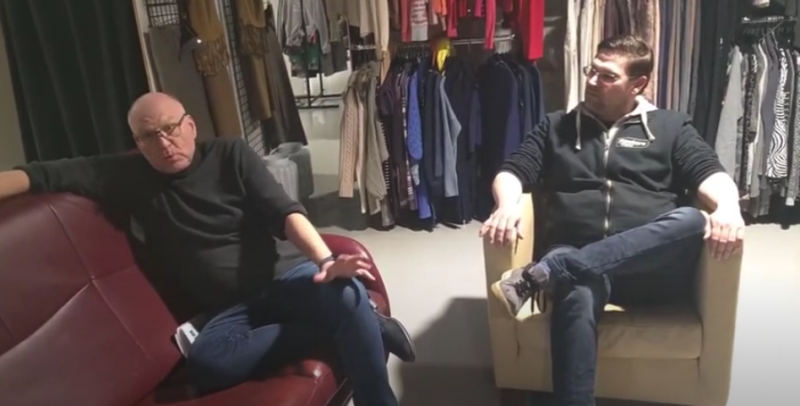 Roelf & Henk Restore Circular Craft Centre Ede