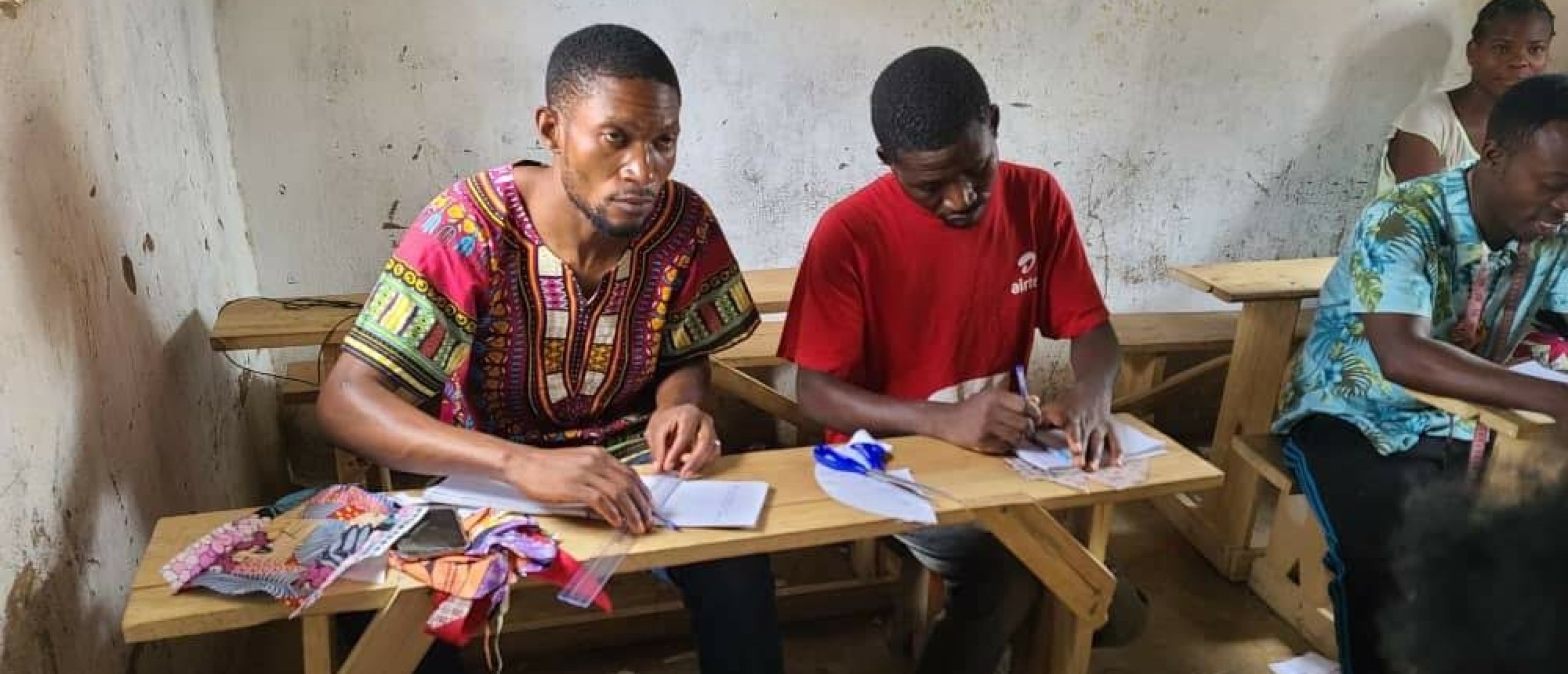 How to teach people to quilt - Sustainable Quilting classes in Nakivale, Uganda with the SSPI
Quilting helps to put discarded clothing back into the system. This prevents useful resources from going to landfills. The challenge, however, is to start something new as refugees, especially for the young people.
-Moise Sarick, Founder SSPI, Uganda
1. Who is environmental sustainability organization SSPI?
SSPI is the Shabani Social Progress Initiative. They are a refugee-led organization with as focus to create a good place to live through education, environmental awareness and community.
Our vision is to foster the creation of the world we want to live in through education and environmental well being.
SSPI is founded by Moise Sarick from Congolese origin. I met him through Gijsje of the comfort blanket project. They took an interest in crafts to help them create awareness of the importance of well-being and taking care of the environment. That's how the sustainable quilting project together with the SSPI was started.
Do you want to get straight to the testimonials of the SSPI on Sustainable Quilting?
Testimonials Sustainable Quilting Class YouTube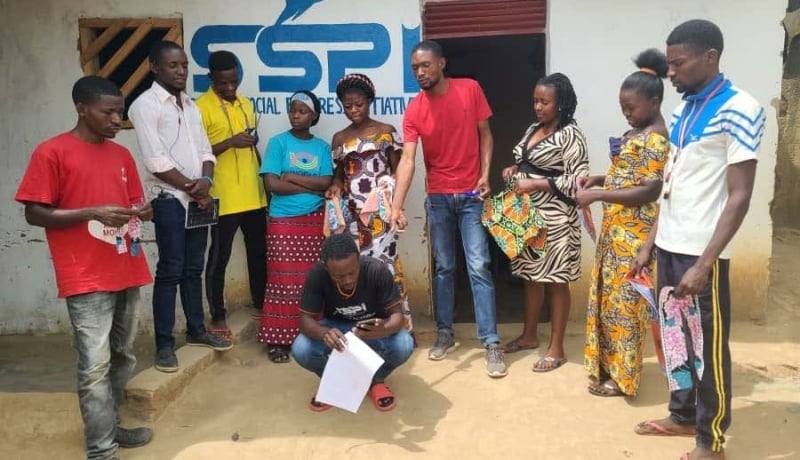 Group photo quilt workshop SSPI
1.1 Existing environmental sustainability projects SSPI
The SSPI has been doing good environmental works for a while already. An example of that is plastic art of plastic they take of the streets of Nakivale refugee settlement. For example, this Christmas tree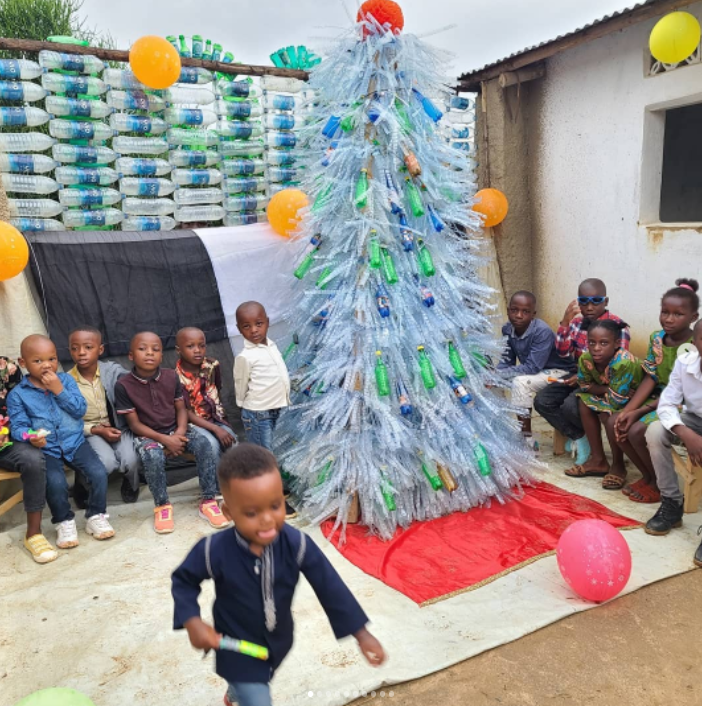 Sustainable Christmas tree by plastic artist SSPI
And these sustainable flowers also made from recycled plastic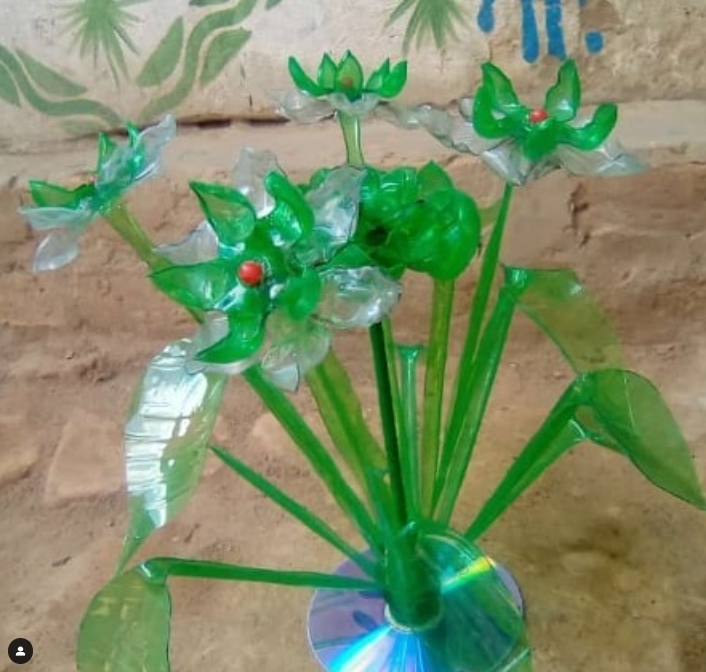 Sustainable flowers by plastic artist
2. The start: Memory Quilt beginner quilt class at Nakivale refugee camp
Now we all got to know the SSPI, it's time to share their story of quilting. And what better way to do so than by using their own words?
Also, you can get an insight in how they teach quilting with this video:
2.1 A Quilting start: 'A Taste of Quilting' memory quilt class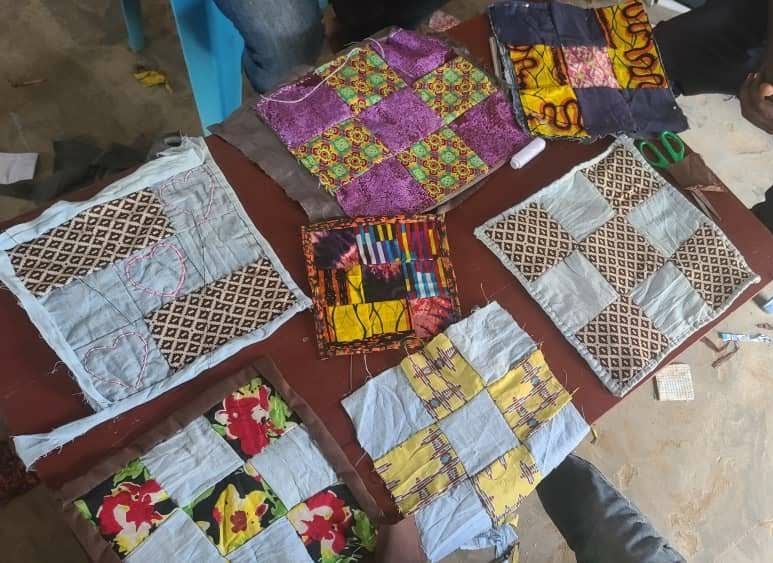 Memory Quilts made by the people from SSPI during 'A Taste of Quilting'
What was your experience of the 'A Taste of Quilting memory quilt beginner class?
The lessons are so good, we are really excited about quilting . The videos are well explained, instructions are clear and easy, the challenge is only when you miss the right tools and materials needed for a craft then replacing is possible, but the result won't be as good as you wanted it to be.
Quilting is delicate, I felt relaxing and having fun as I sat connecting corners and seeing the quilt getting the look of my wish.
Yesterday we had almost the entire day working on quilts, and we didn't complete quite well so today again we shall continue, we discovered that quilting needs time and from this another problem was spending a day quilting without lunch or any refreshing things was not really good at all. At a time, we felt the back pain because of sitting for a long time and my colleagues were like asking me to ask you: what do you take after quilting for long, and you feel tired or back pains.
'Adjusting to create more beauty. I am falling in love with my quilt' -Moise
3. Deep dive quilting: quilting proficiency at Nakivale Uganda
After finishing the memory quilt, the group was eager to continue quilting. So, they dived right into the continuation class called a 'Deep dive' into quilting.
During the deep dive into quilting class, the participants learn how to make a sampler quilt of the size of a lap quilt. The name of the lap quilt pattern is 'A Lap Quilt Sampler to Save the World' because it teaches students how to work with challenging fabrics such as stretchy and fragile fabrics. Also, it teaches design principles to work with unpredictable patterns and colours.
You can access the class through the Sustainable Quilt College.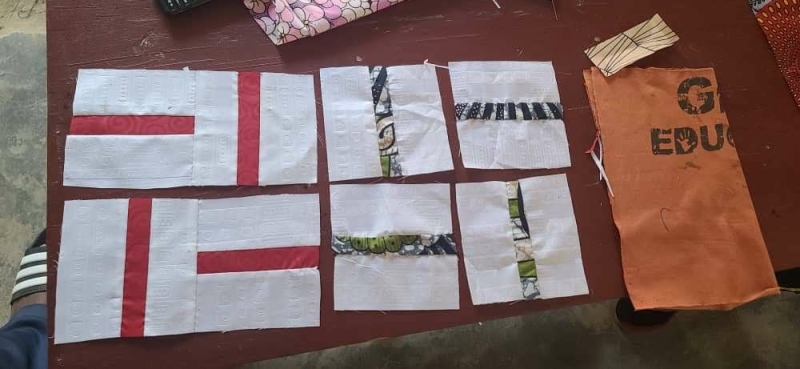 Roman Square Quilt Blocks
3.1 Motivation to quilt: Provide a lunch and internet
Planning the second sustainable quilt, an issue emerged. The people of the SSPI were so eager to quilt that they spend the whole Saturday doing so. However, they did not have any lunch or refreshment. Also, they struggled with watching the videos because internet is costly in the camp and Wi-Fi not available.
Another problem was spending a day quilting without lunch or any refreshing things was not really good at all
It was decided to arrange a lunch for the Saturday's quilt workshop and to also give them some money for data. Kick Ass Quilts also gave them some extra funds for materials to quilt better (scissors, needles, etc.)
You can help me keep this kind of projects going by contributing to the work of Kick Ass Quilts.
I felt so much better seeing how the simple lunch motivated the team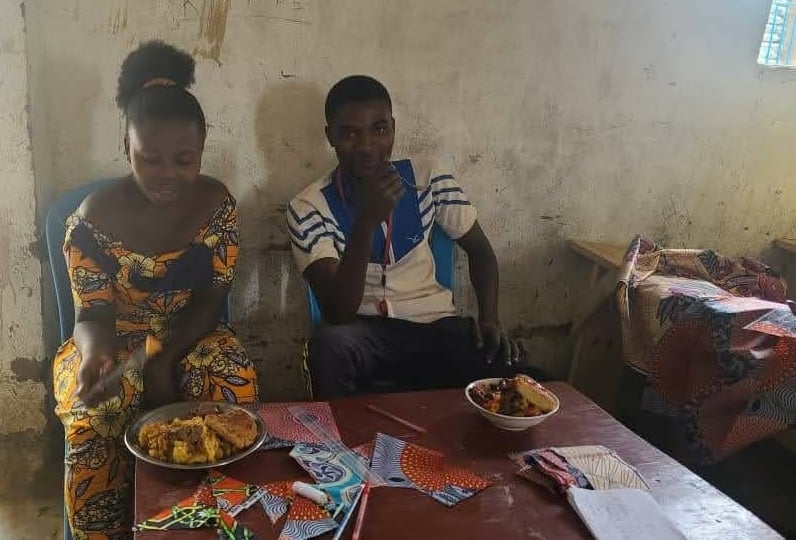 3.2: Experiences Deep Dive Quilting classes:
We were 11 people, 4 girls and 7 male.  We first watched the video together  and then explained the others who don't know English.
And then we started with the introduction:  Redesigning and colouring the patterns on the blackboard and in notebooks. Then we all agreed that we start cutting patterns accordingly from simple ones to complex patterns.
In this video, Moise explains experiences during the class with the finished 'Lap Quilt Sampler to Save the World' in the background!
4. Expert Sustainable Quilting Class: Quiltify Your Life
In the last Sustainable Quilting class, the students learn how to make 5 objects with Sustainable Quilting techniques:
A quilted laptop / book cover
Quilted party flags
A washable quilt pillow
A quilted tote bag
A Magic of Quilting butterfly soft toy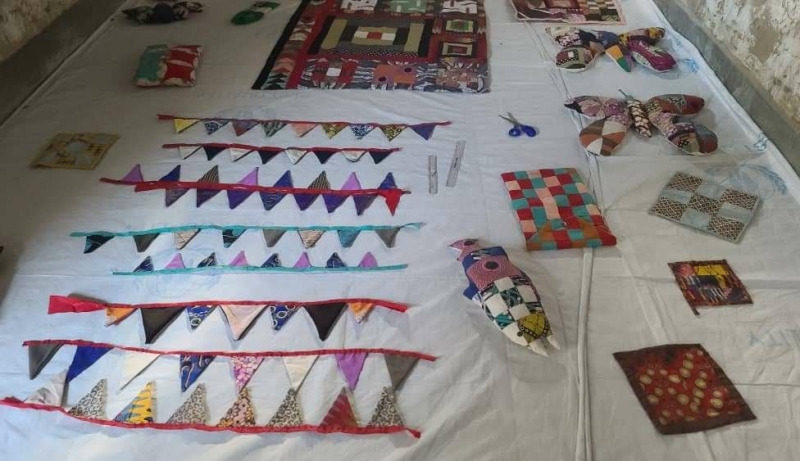 In this video, Moise explains the experience of the SSPI people during the third phase of the Sustainable Quilt Classes in Uganda.
Let me also share some examples of the wonderful sustainable quilting projects the people at Nakivale made.  Find more of their work here: Sustainable Quilting projects of the SSPI.
Week 1: A Quilted Laptop cover or book cover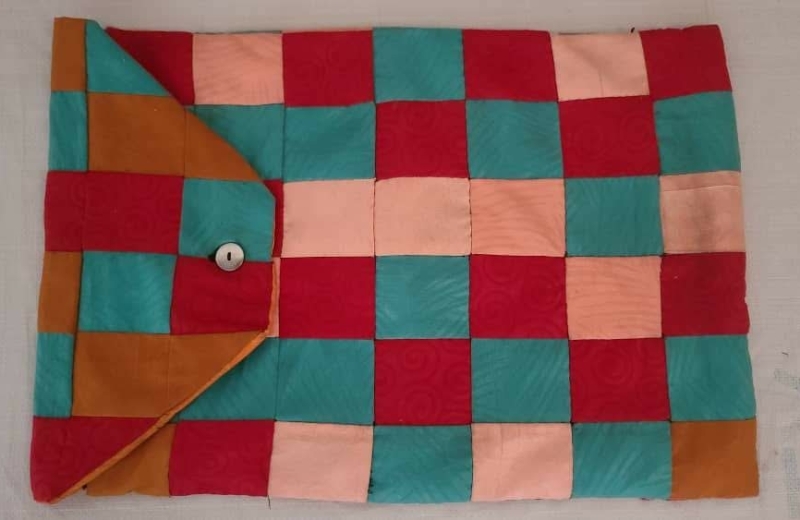 Sustainable Quilting upcycled laptop cover
Week 2: Quilted canvas tote bag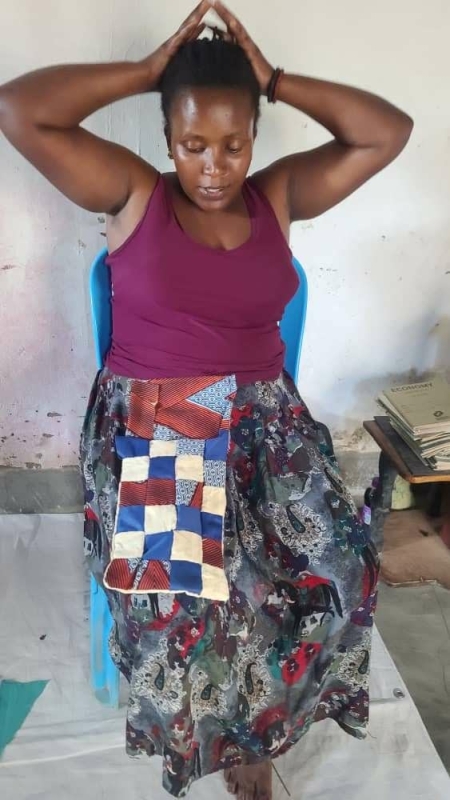 Sustainable Quilting tote bag
Week 3: Quilted Party flags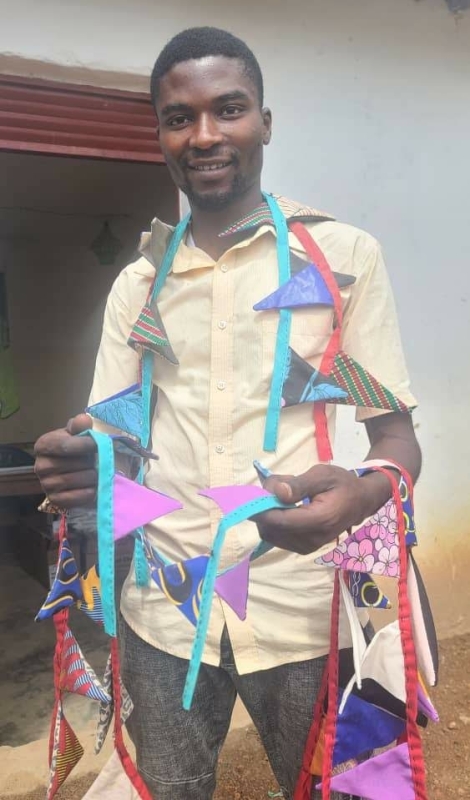 Sustainable Quilting party flags 
Week 4: Quilted washable pillow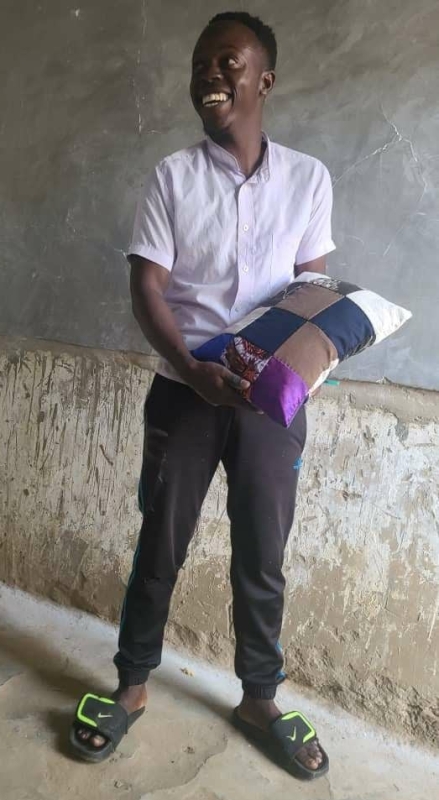 Sustainable Quilting washable quilted pillow
Week 5: Quilted butterfly toy for children.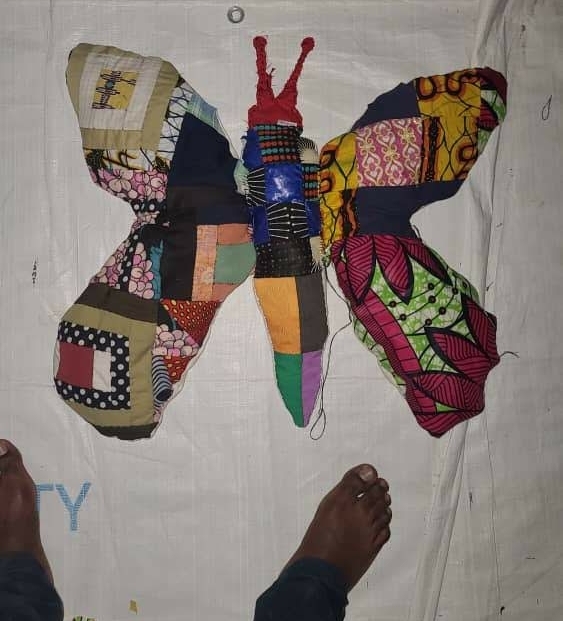 Sustainable Quilting Upcycled butterfly toy

And a bonus sustainable quilt fish toy they made....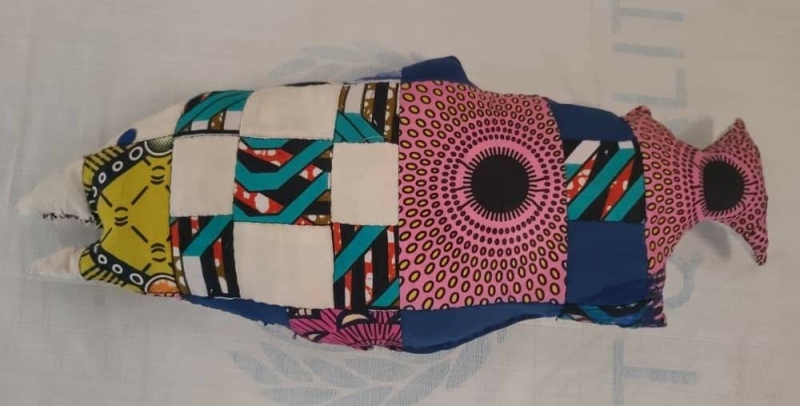 Sustainable Quilting upcycled fish toy
Conclusion: Quilting as a tool for sustainability and development
The sustainable quilting workshops with the SSPI are still ongoing. Currently, we are preparing for the third session of the 'Deep Dive into Quilting' class.
This project inspires us all to see quilting as a way to create a sustainable future for everyone through quilts in accordance with the mission statement of Kick Ass Quilts! Also, check the Sustainability theory for more information.
Do you want to see more of the testimonials of the SSPI on Sustainable Quilting?
Testimonials Sustainable Quilting Class Youtube
My wish is that you connect us with everything that has to do with quilting.  My community is eager to learn and they have showed interest, it is up to you and I finding ways of encouraging them and  I am sure when they see motivation many people will join.
You can follow their quilting progress on the Kick Ass Quilts social media:
This article!
Newsletter sustainable quilting news: subscribe underneath this page.
You can support the work of Kick Ass Quilts in facilitating these sustainable quilting projects with a one-off or yearly donation here:
'Societies Trash will be Our Treasure'
Do you want to read more about Sustainable Quilting?
What do you find most inspiring in the Sustainable Quilting workshop with the SSPI? Let me know in the comments!