With Kick Ass Quilts, I inspire and teach people how they can use the power of quilting to create a better world for everyone.
Every week, I share Quilt Inspiration during a live session on Instagram. This time I shared the '8 Assignments to Create a Beautiful Future for Everyone'. These assignments are based on the 4 core values of Kick Ass Quilts 'Sustainability, Connection, Mindfulness, and Joy' explained here:
Watch the video or read this blog to find out what they are and how those rules can help you to create a beautiful world for yourself and community.
Introduction: The Magic of Quilting
The world is changing, and it's now or never to push the balance towards a beautiful, sustainable world for everyone. The positive change will happen with a combination of personal work, healing of communities, and by caring for the planet, both locally and globally. Quilting has amazing potential to tilt the scale to the right direction.
With Kick Ass Quilts, I inspire and teach people how they can use the power  of quilting for that purpose.
The basis of those teachings are the '8 assignments to create a beautiful world for everyone' which I share in the article you are reading.
My challenge for you is to apply those assignments in your own life. And maybe you can add some other 'assignments' that will contribute to that better world for everyone.
Leave your suggestions for assignments in the comments.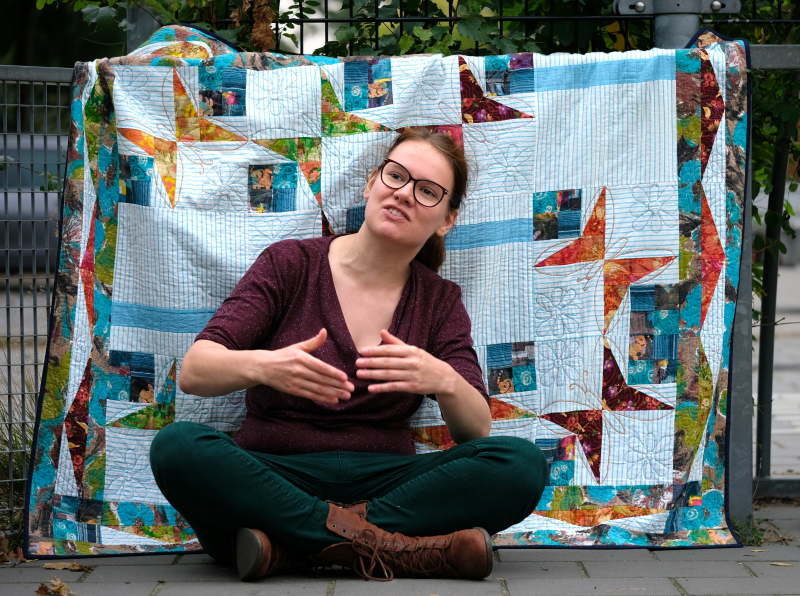 Connection
Connection creates easy and calm in life because there is always a safety net. Our current society is highly individualized, which causes people to live in fear and to only think about their own interests. In connection with others, we make decisions that make sure everyone has a place in society, because there is enough for everyone.
Assignment 1: Come together and share
It is important to feel connection to a community and to share the joys and sorrows of life. Connection makes you feel part of a bigger whole. This does not only ensure that you treat others carefully, but that you also care for the planet and yourself. Connection is part of the tradition of quilting in the form of the Quilting Bee.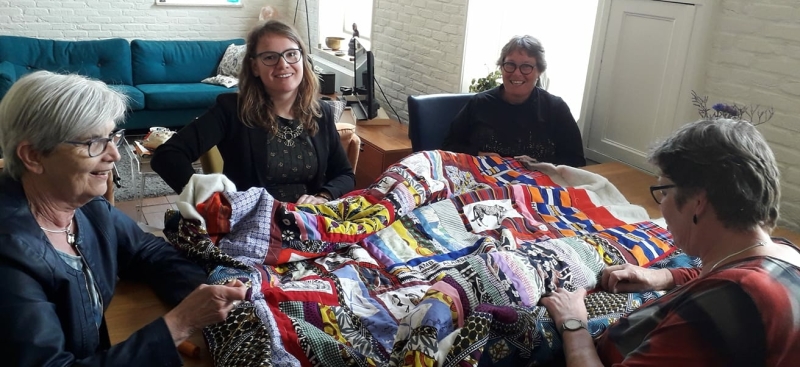 Assignment 2: Make quilts for someone else
The gift of a quilt tells the receiver they are welcome and loved. This is because a quilt is made with care and attention. Making quilts for another makes sure everyone feels welcome and like they have a place in this world.
Environmentalism
There are not enough resources for everyone to have a dignified life within the current system of overconsumption and overproduction. To counter this, we have to reduce, reuse and recycle resources and buy less. This is not only vital, but also more fun!
Assignment 3: Reuse old clothing and rest textiles
A European throws away an average of 11 kg of textiles a year per person. A big part of those clothes end up on landfills in developing countries, where it causes huge environmental problems. Those countries can't use the textiles either, it's simply too much.
It's necessary to keep clothing streams local and circular. This is possible through reduce, reuse and recycle instead of buying new. For example, you can make beautiful quilts with old shirts or fabric scraps. Give reuse a change, and it will amaze you how creative your quilts will be!
In the Sampler Quilt class, you learn how to turn your old clothes in a lap quilt blanket to keep you warm in the evenings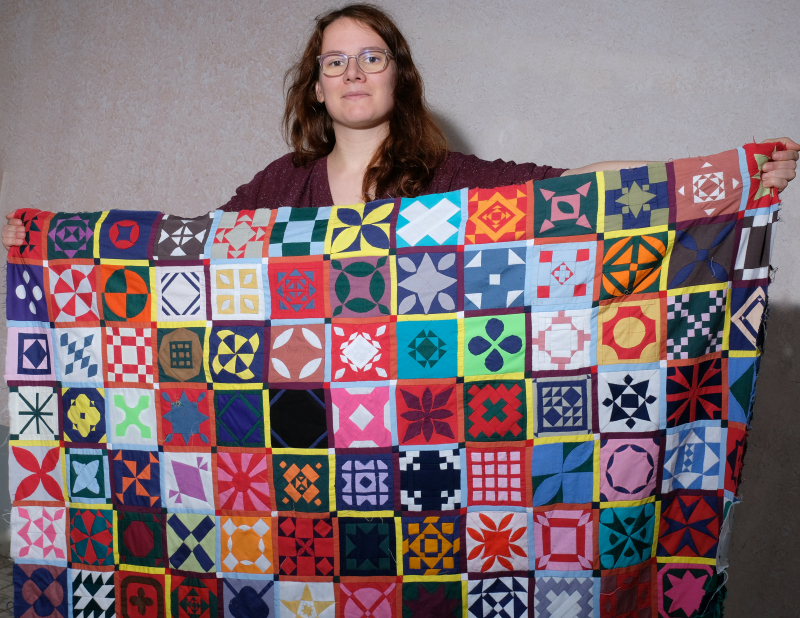 Assignment 4: Don't buy new textiles new for a year.
Buying nothing new for a year works as a reset. After a year, you'll know which fabrics you really like and use. Let go of the idea that you have to own things to appreciate it. Enjoy the work of others and only make, buy, or own what suits you.
Ask your friends and family for materials. Before you know it, you'll have a wonderful collection of repurposed fabrics which also have wonderful memories attached to it. With those fabrics, you'll make extra-special quilts!
Joy
In the current society, the feeling of stress and never being, or having, enough is artificially created and maintained. That is because those feelings make us buy more to feel happy. However, you can't buy happiness. Contentment comes from appreciation of what you already have, and doing what makes your heart happy.
Sustainability & joy are linked together, and one cannot exist without the other.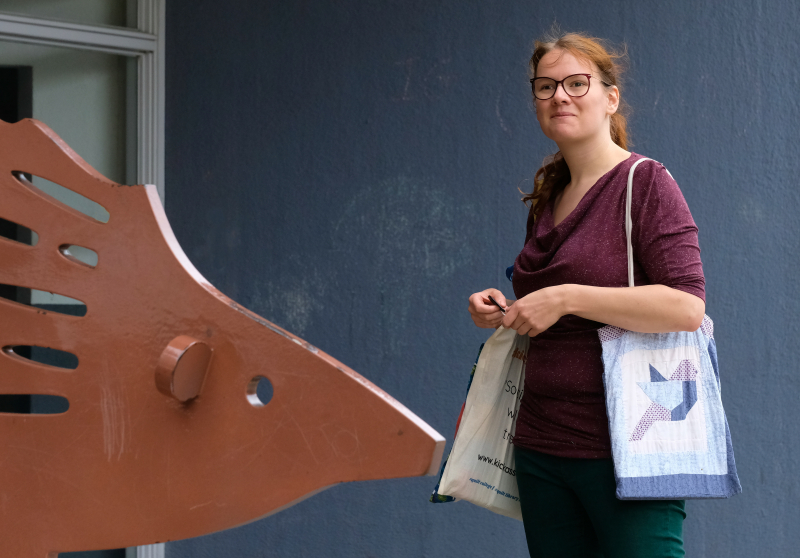 Assignment 5: Quilt with intention
You go against the natural creative process when you make a quilt that only answers to the needs or requirements of someone else. This causes frustration and to not finish a quilt. This is a waste of your energy and the resources used.
Decide before starting a quilt what the purpose is. Also, pick the design and fabric use of the quilt to the intention. When you are not sure (yet) of the intention of the quilt, don't start. Focus on creating things that nourish you.
Assignment 6: Enjoy the quilts in your life
How wonderful is it to use your quilted tea cosy every day, made from the shirts of your grandpa (my grandfather wears magnificent shirts)? It gives more satisfaction to have objects in your life that have meaning to you.
Make quilts you can use, such as blankets, bags, or a coaster. Also, let go of the idea you have to be careful with quilts. A quilt is at its best when it is used, and the saddest thing is an unused quilt in a closet.

Mindfulness
With mindfulness, you get in touch with your inner self. This helps to discover what you really need and what's important to you. Mindfulness is a tool against the chaotic world we live in where we 'need to do' a lot.
Assignment 7: Quilt every day 30 minutes
Quilting 30 minutes every day creates an anchor point of rest to reflect on the world and your role in it. While quilting, the unrest and business of the day-to-day will disappear. This quiet gives insight into why you make the choices you make, and what the healthy choices are for you, your community and the planet.
Make sure the 30 minutes are peaceful: Quilt in silence or play some music. Also, arrange a specific time in your day to quilt and plan it 1 month in advance. Write a journal to keep track of the insights you gained, so you see how much the daily quilting practice brings you.
Assignment 8: Draw strength from your quilts
I felt absolutely magical, powerful when I finished my first quilt. Now, 10 years later, I still cherish that quilt. Also, I can still evoke the  feeling of I can do anything through that quilt. Maybe you also have a quilt that gives you the 'I can do anything' feeling (or you can make one).
Go over the insights gained from assignment 7, and use the confidence you gain from the quilt to take steps to follow your own path based on what's good for you without harming others. It will take some bravery to get started, and the quilt will empower you.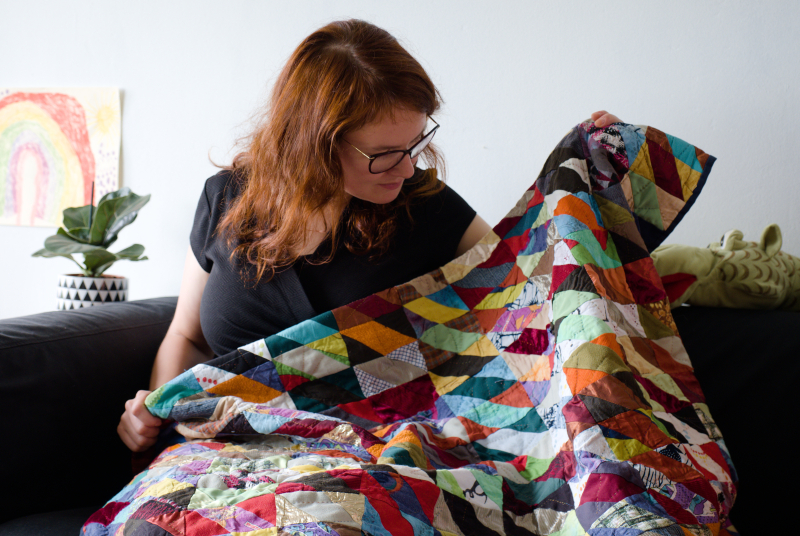 Conclusion: I challenge you to apply the assignments
The 8 assignments help you to live a sustainable life through quilting.
A sustainable life creates a world where everyone can be themselves, follow their own path, and live in dignity without limiting the opportunities of others. In order to do this, we need to re-connect with our community-spirit, which is lost in the chaotic capitalistic world we live in. Following these 8 assignments is the start to find your way back. You can follow them alone, with your friends or community, or with the Kick Ass Quilts Community.
It's my mission to re-create a healthy world for people, communities, and the planet, so there is a bright future for everyone. Kick Ass Quilts is my way to work towards that beautiful future through the magic / power of quilting. You can join me on my mission by becoming part of the Kick Ass Quilts community or by following my work.
Community, Contact, newsletter, Facebook, Instagram, YouTube,
PS. The community is still in its forming days. What would you like to see in the community? Or do you want to be a part of its foundation? Contact me! A better world is build together.
My challenge for you is to apply these assignments in your own life! And to add others you find important