1. Introduction: Quilting is easy.
I've noticed that a lot of people don't pick up quilting, because they think it's too hard. They see quilters work with a lot of small pieces of fabric doing maths, worrying about their points matching, and they are gone.
But are they running for the right reason? 
Because, to me, quilting always seemed easy. Sure, it takes some practice to make neater quilts and how to work with difficult fabrics. You can even learn colour design. But the basics are easy. But people like to complicate things. And that's fine, but not for a beginner.
The goal of quilting should always be to enjoy the process.
2. The 9 basic tools you need to quilt
It all starts with the tools. You only need 9 simple tools, each you already have. I discuss which tools you need in this week's Quilt Inspiration

Over the years, I've always come back to these 9 trusted tools. Of course, I use some more now, but the basic are still these 9 tools.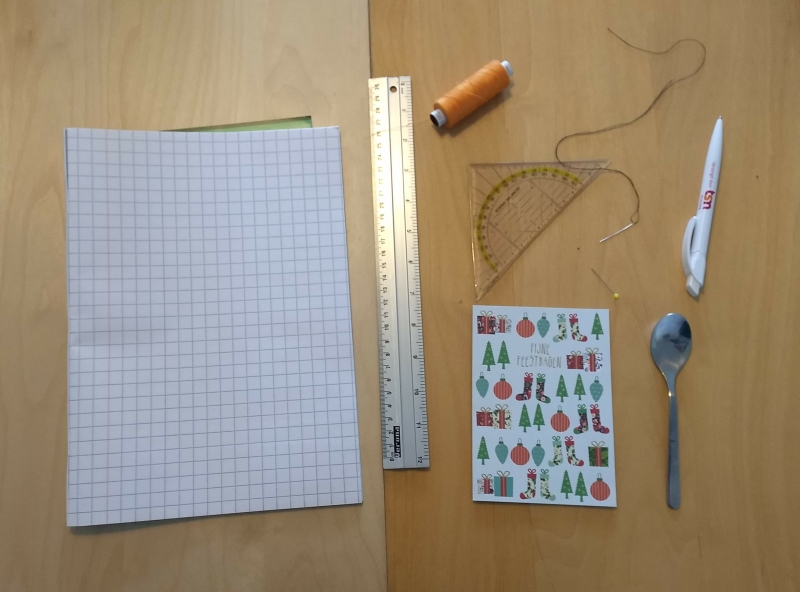 2.1: Portable Quilting
Sticking to basic tools to quilt also makes it a very portable hobby.  For example, during long train journeys, or when you go on holiday. Almost all the quilters I know quilt on holiday or have a quilt projects for on the go!
For example, my Kenyan quilt is mostly made by hand while travelling around with fabric scraps I sourced locally.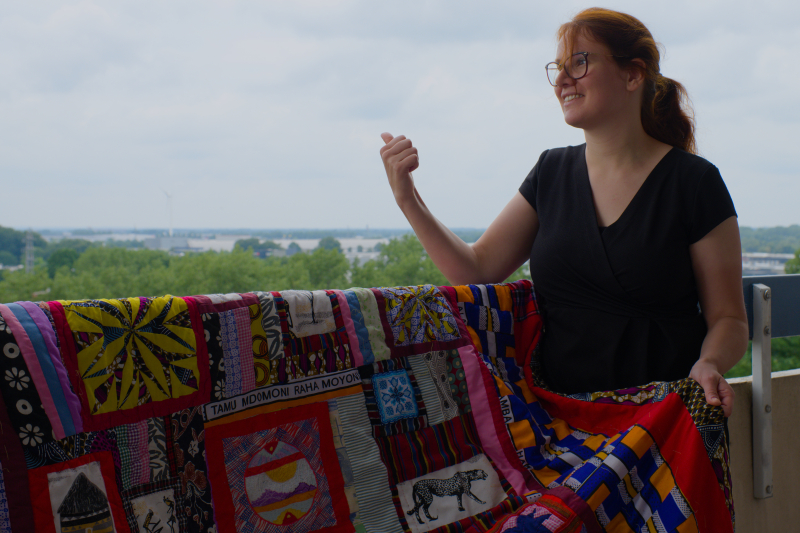 The beauty of the 9 quilting tools is that you can find them anywhere. Also, you can find fabric scraps everywhere. This means that you can start to quilt everywhere! Even in rural Kenya.
2.2: 'Quilting Out of Your Home' E-book
I wrote an e-book about the 9 tools you need to quilt and where to source fabrics called 'Quilting Out of Your Home'. Get is for free here: Quilt E-book.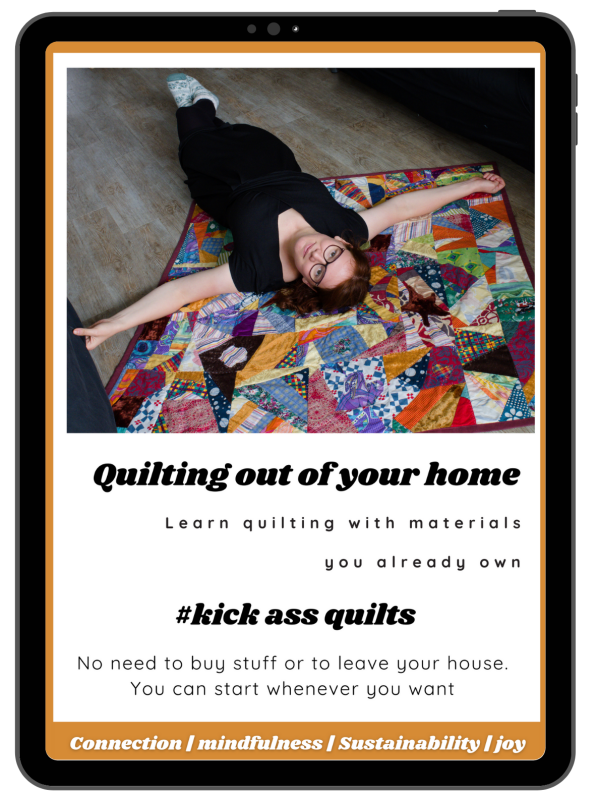 3. The Kick Ass Quilts teaching method
It's my ambition to make quilting a basic skill for everyone. That is why I focus my teaching method on easy and accessibility.
Also, the combination of mindfulness and quilting allows you to enjoy the process of quilting as relaxation and a moment for yourself. The end result is not the most important thing in quilting.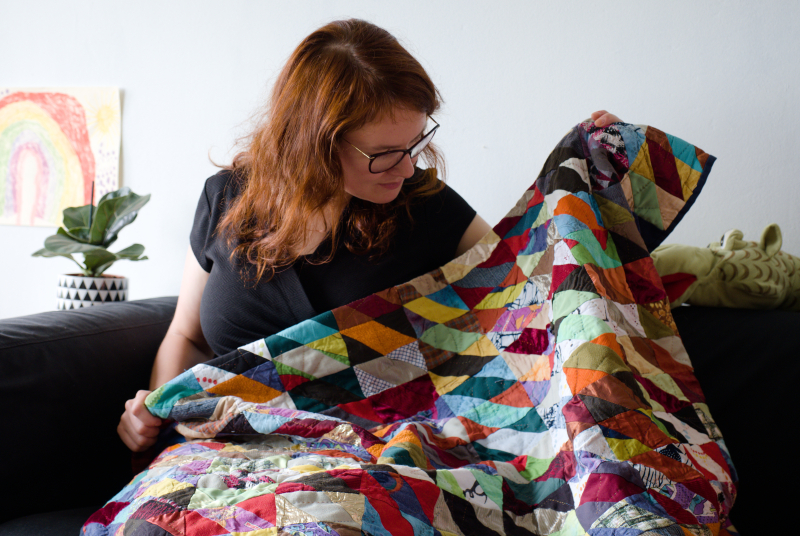 My First Quilt
3.1: Mindful Quilting is not about the end product
One reason people find quilting hard is because they focus on the perfect end result they think they need to reach to please others (and the length of this sentence shows already how complicated things get once you start reasoning like that).
Quilting is something we do for ourselves.
However, that is the biggest nonsense. Quilting is something we do for ourselves. It's a hobby we do to express our creativity, have some time for ourselves, or to make something for somebody else. It's a relaxing practise to start your day well, or end it in peace and quiet. The goal of quilting should always be to enjoy the process.
Remember these things:
None of your points have to match
Your fabric can be polyester
You can use any colour combination you want
Quilt slow by hand and spend 10 years on one quilt
Or quilt like a speeding train by machine and finish a quilt in 2 days
Nothing matters as long as YOU enjoy the process.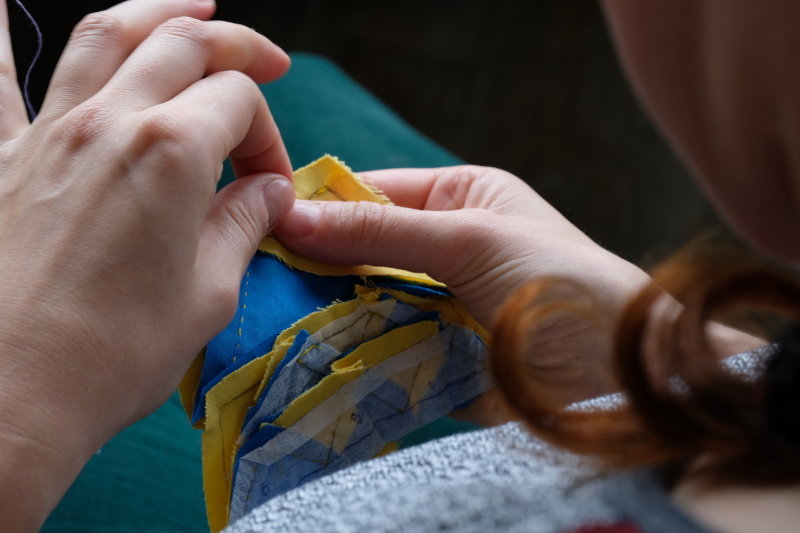 Enjoy the process of quilting
4. Conclusion: Just start Quilting!
Of course, I understand that part of the reason quilting is easy for me is that I've been doing it for 10 years. 10 years is plenty of time to developed an easy quilting method! It also took Mondriaan many years to make the seemingly simple works he ended his career with.
However, from the start I've made my quilting easy, because I loved the process so much. I didn't care about using complicated quilting techniques or buying every new kind of ruler. Also, I am not good at math, so I've just practised eyeballing lines or drawing out patterns. This made much more sense for a visual person like me. This was all super helpful to get a feel for fabric, colour, construction and design.
I didn't care about using complicated quilting techniques or buying every new kind of ruler.
4.1: Quilting made easy for you
I don't want you to spend 10 years finding out how easy quilting is.
That would be like reinventing the wheel.
And that is why I started Quilt College with Kick Ass Quilts: It's a place where everyone can learn my easy quilting method.
In Quilt College, we go back to the bare bones of quilting to make beautiful quilts from any kind of fabrics we can find, wherever and whenever we want for the sheer joy of making something with your own hands: Sustainable and Mindful quilting!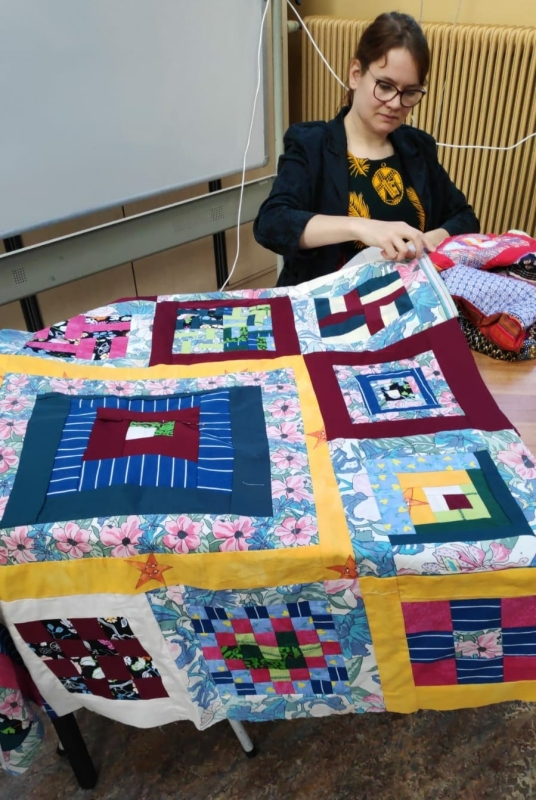 The Sampler Quilt from Quilt College 
3.2: Three tips for easy quilting:
Just start: Doing leads to ease, which leads to quilts you'll find perfect; just the way they are
Enjoy the process: Te feel of the fabric through your hands and the sound of thread going through fabric.
Do not quilt alone:Take my class and learn to quilt with support and friendship from my community of easy quilters.

Let's have a discussion in the comments!
Do you think quilting is difficult, if so why?
Which are your trusted tools for quilting?