Articles in this category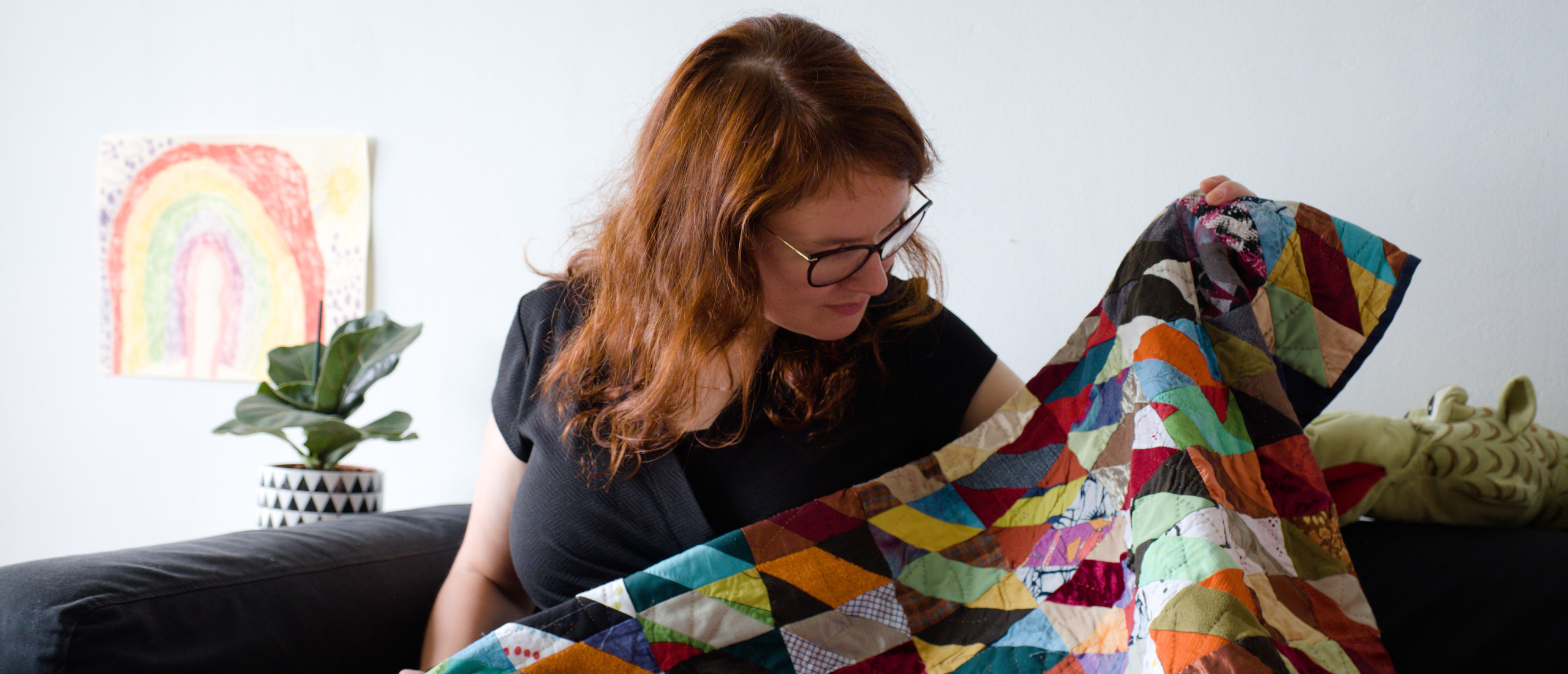 Sustainable Quilting and Healing: mindfulnes, sustainability, connection, and joy
It's the small points of light that makes people survive and thrive in life. 
Quilting has always been able to give me those points of light. And that is also one of the reasons why I combine quilting with the creation of a sustainable world where everyone is welcome. 
My sustainability theory is a holistic one where the values of connection, joy, sustainability and mindfulness are all important to reach that more beautiful future where everyone is a part of. I distilled those values to 8 assignments. 
At it's core, quilting has a role to make that better world because, to me, it's healing. In this article, I explain why with my personal story. 
Quilting is much more than playing around with fabrics. 
Sustainable Quilting as healing
Quilting to me, if you go down to the core, is healing. Healing of the following 3 things:
-> Healing of your personal
-> Healing of communities
-> Healing of the planet 
Each core value of Kick Ass Quilts links to those healings.
Mindfulness: Quilting has saved me
I have first experienced the healing magic of quilting for myself. I will even go as far as to say that quilting has saved me. And because of these reasons:
- Quilting is the thing that kept me sane from young adulthood depression until this day. 
- Quilting allowed me to play and express myself when the world made any sense to me
- Quilting allowed me to explore and be myself without having to show anyone if I didn't want to ( I was a closeted quilter when I started out). 
All three things gave me an immense inner-confidence, joy and a sense of safety. Quilting was my anchor, and a way to get back to myself. 
Connection: Quilting gets people together
Quilting is also a tool that gets people together. In the Netherlands only there are 10.000+  people member of the national quilt guild. On a personal level, it gives people a nudge and courage to go out and meet with friends. 
One of my quilting friend has hermit tendencies. Quilting helps her to go out and meet people. Something that was even harder after all the lockdowns. It has also helped me to make friends when I was scared of people.
Quilting gives people a nudge and courage to go out and meet with friends.
So quilting heals our own person and the communities we live in. It brings people together under the banner of creating beautiful things with our own hands. 
Sustainability: Turning trash into treasured quilts
That is why I teach Sustainable Quilting. So the thing that heals us, and our communities, won't harm the planet.
This together with the principle of reduse, reuse, and recycle. Quilting gives a new life to textiles and prevents the buying of new blankets and such. A quilt will also last you 10+ years!
Joy: finding a live that works for you
healing of self, embracing what YOU want, finding yoiur inner strength to go for it combined with safety from community is the magic formula (or one of them) to get a satisfying life for yourself that won't harm someone else. 
The more I lean into the values of connection, sustainability, mindfulness, and joy, the more I experience calmth and happiness. 
Conclusion: find the life that works for you, through quilts
When I was young, I was very lost. Quilting is the red thread, the anchor, that has kept me alive and kept me looking for a life that works for me. 
I have found that life with Kick Ass Quilts, and with the people I quilt with.  
That's why I speak with such passion. That's why I also speak about mindfulness, connection, joy and sustainability.  In a world that's falling apart, we need all 4 of those things to heal and save us all.  
You can join me. You can even start small! With the 'A taste of quilting' quilt a long for example to make a memory quilt. 
Discussion:
Do you want to learn how to quilt? 
Let me know in the comments so I can guide you.