In this article
Table of contents
Articles in this category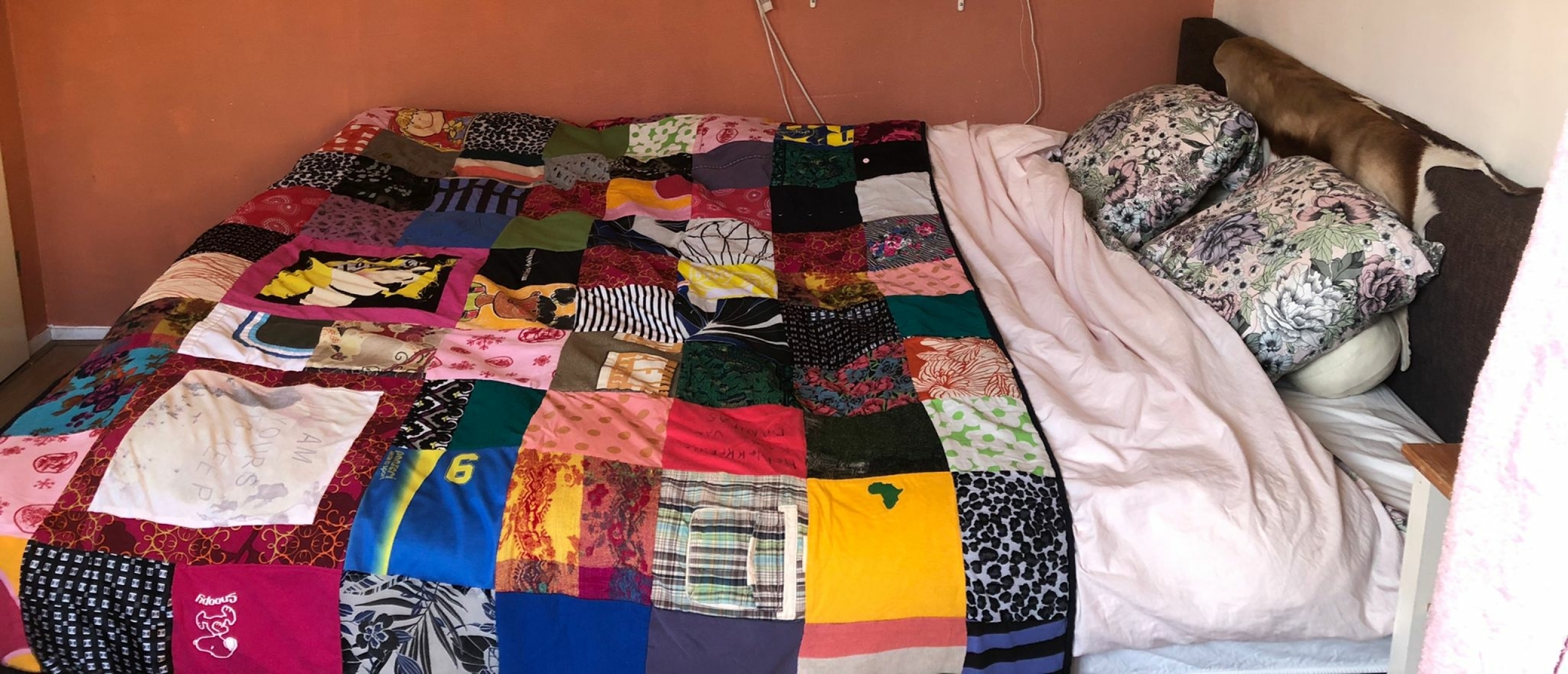 Quilt Chronicles Floor: Making a memory quilt for a lost sister
The meaning of quilts: our collective story
Memory Quilt Floor: A Quilt to remember her sister
To create a sustainable future through quilting, we first need to understand the meaning of quilts. And the meaning of quilts lays in the stories their makers have stitched in the quilt. 
Quilt Chronicles is a library of those stories. 
A Memory Quilt is one meaning a quilt can have. This episode of Quilt Chronicles tells about Floor's memory quilt for her sister. 
It felt like I was making like pathways to heaven while I was stitching the quilt. 
Do you have a story to tell? Send a message through contact or email me at rianne@kickassquilts.org.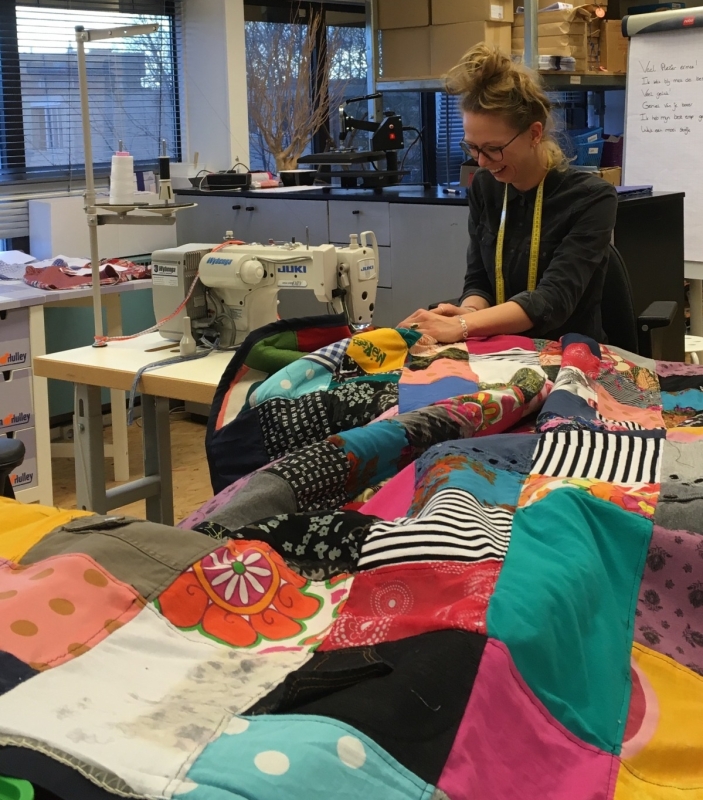 Floor quilting her Memory Quilt
A memory quilts to process grief: Floor
Floor story shows that the intention of a quilt and the process is more important than the pattern and perfect outcome. Also, using the clothes of a loved one turns the quilt in a testimony of someone's life. It can be a way to process grief and let go to continue life. 
The quilt is always there and gives the opportunity to be closed to your loved one whenever you feel the need. 
Watch Floor tell the story of her memory quilt and read the story below
1. Why the Memory Quilt was made
The memory quilt is made in honour of Floor her sister who died while away in Africa. It was a way to do something with the clothes of her sister. Her family didn't want to throw the clothes away, but also didn't want them to just be in a closet. A memory quilt was the perfect solution. Because now the quilt shows the personality and life of her sister through the clothes. 
Now, Floor herself, her other sister, her father and her mom all have a quilt as a memory of their loved one. And in this way, the sister has a part in their lives through the quilt. 
 Quilting gave me space to think about her and have good memories without the anger and sadness.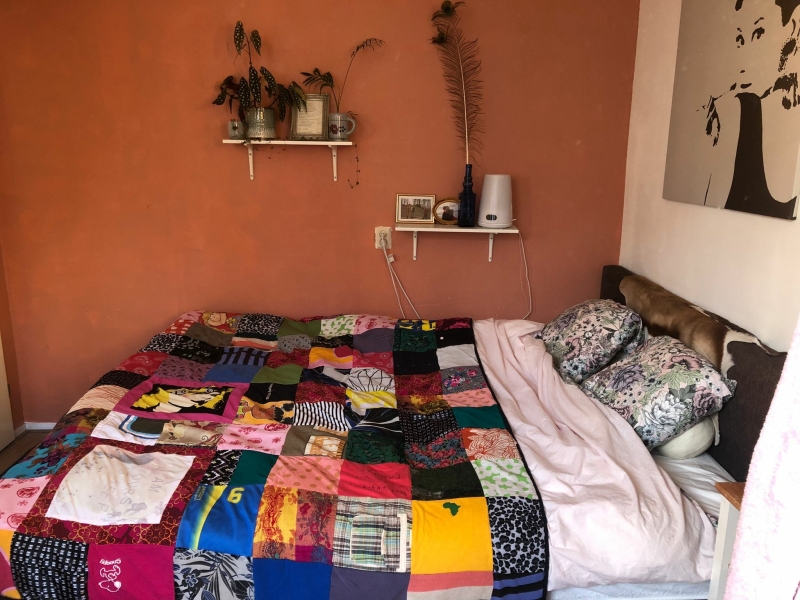 Process of making a memory quilt
This was the first quilt Floor has made. It wasn't easy in the beginning, since she didn't know how to make squares line up and things like that. At many points she felt like giving up. 
And now every time I see the quilt it gives me so much pride. And it gave me my pride and self-esteem in life back.
However, her sister guided her. It really felt like her lost sister was with her to guide her to not give up. As if making the memory quilt was Floor her way to let go of the anger and sadness associated with the grief. The grief never really goes away, but the quilt gave it a place to be and the opportunity for Floor to continue her life.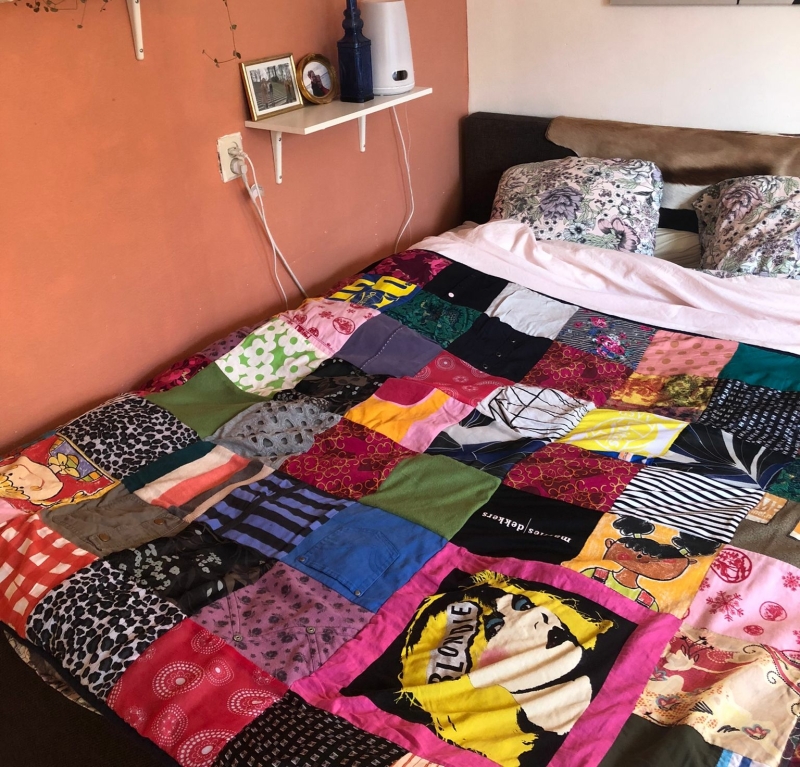 Finished Memory Quilt of Floor
Do you have a quilt with a story to share? Contact or email Rianne@kickassquilts.org
All quilts and quilters have a story to tell.
Questions:
Have you ever made a quilt to overcome grief?
What do you think is the best thing to do with the clothes of a loved one who passed away?