In this article
Table of contents
Articles in this category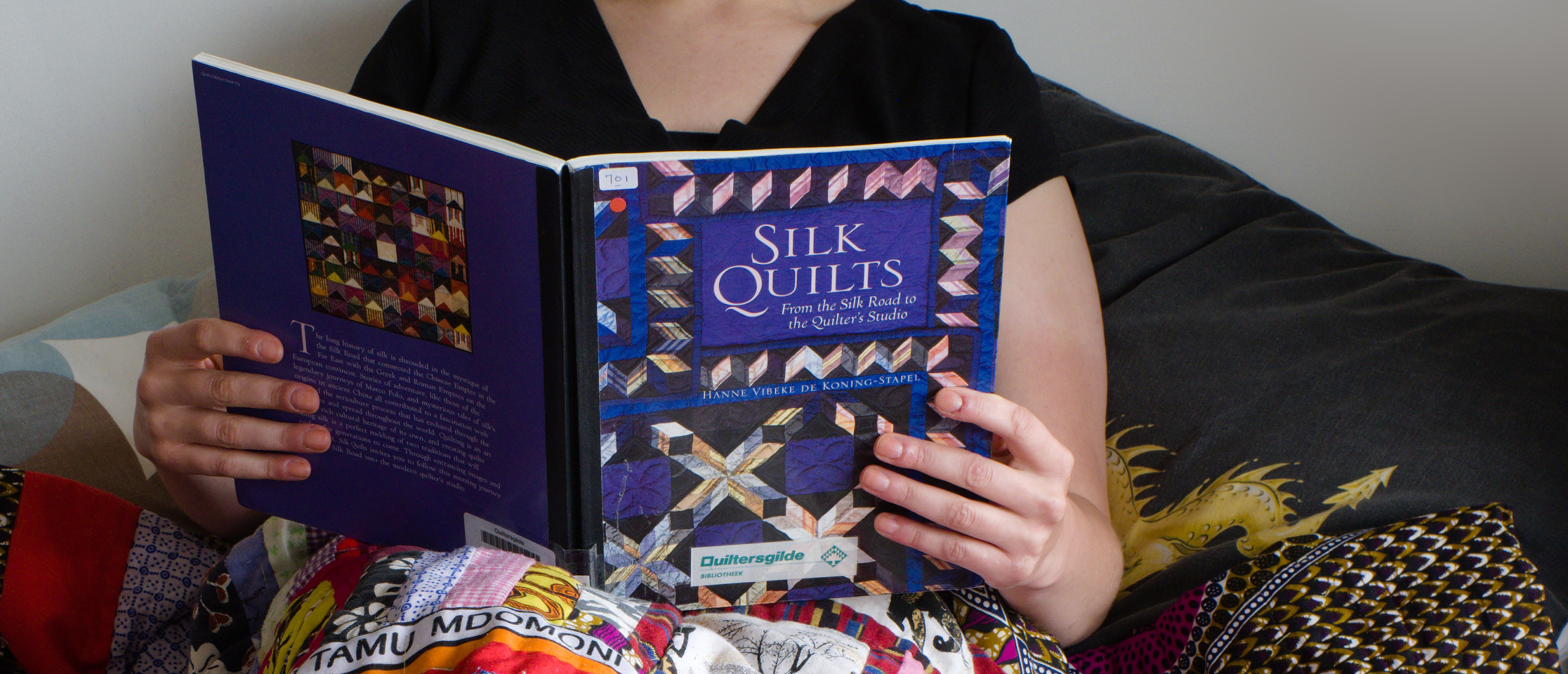 Kick Ass Quilts: Quilt terms Dictionary
In this dictionary most common quilting terms are explained. With the links you can go to articles which go in dept with videos and pictures of the quilt terms and quilt terminology.
When I first started out quilting and sewing, I was very confused about all the words and phrases people used. It seemed like I had to swallow a dictionary and thesaurus before I could even consider to start quilting.
Now I know more, and I've realized you don't need terminology to quilt. However, I do realize it's useful to know the terminology. So I created this dictionary for you!
Is the dictionary missing something?
Leave a comment with the term that needs to be added and consider it done.
A Lap Quilt Sampler to Save the World: The first sampler designed by Kick Ass Quilts to teach you 5 basic patterns and the necessary quilting skills for your future upcycle quilt projects.
Affirmation Quilts: A project to get quilts into the world as well as positive words to make the lives of the owners better. Its a collaboration with Affirmation Billboards
Applique: Sewing pieces of fabric directly on top, or below, your quilt block. This is done in intricate shapes. Applique allows to create complicated shapes out of one piece of fabric. There are different applique techniques,  such as needle turn applique, reverse applique, raw edge applique and applique with fusible interfacing.
Art quilt: quilts that look like paintings. They can be life-like images, but also completely abstract.
Binding: 'If you love your quilt, put a ring on it'. Binding is the fabric you put around the quilt to finish of the edges. This is the last step you take to finish a quilt. This is also called border.
Backing: the buttocks of a quilt. Usually made from left-over fabrics of the quilt top or with a large piece of fabric.
BAP: Big ass project. One of those projects you start and will take at least aeons to finish.
Basting: A technique to temporarily sew layers of fabric together. This can be done with very loose hand stitches, a basting spray (some kind of glue) or pins.
Batting: stuff you put inside a quilt, which makes the quilt warm and comfortable. This material is usually made from wool or bamboo, if fancy, or polyester, when not fancy. You can also use a blanket, fleece blankets, towels and such. Cats really love the wool batting.
Bee:  Either called quilting or sewing bee. It's a collection of quilters who work on their quilts together.
Big Stitch: a sewing method where you make big stitches which stand out from the material you sew on. This is usually done with embroidery floss. Big stitch can add a nice decorative element to your work.
Blanket Stitch: An nearly invisible embroidery stitch to secure the border of your quilt at the back. Most of the stitch is buried within the border fabric.
(Quilt) block: usually, a quilt top consists of several blocks. A block has a particular design and can be made with a variety of techniques.
Block Quilt: A quilt made of different quilt blocks. A block quilt either consists of the same blocks or different ones. The last kind is called  a sampler quilt.
Border: 'If you love your quilt, put a ring on it'. Binding is the fabric you put around the quilt to finish of the edges. This is the last step you take to finish a quilt. This is also called binding.
Burry the knot: Securing the know inside the fabric by pulling it gently through. Technique is used for quilting.
Chain piecing: an awesome technique that allows you to sew pieces of fabric together in a row. This technique is useful when one has to sew a lot of the same blocks by machine because it saves time on starting and finishing the seams. When all the pieces are sewn together it looks like a festive  garland.
Charm quilt: A quilt where every piece of fabric is only used once.
Cheater quilt: A piece of fabric that has a quilt design on it. You don't have to piece the top anymore so it makes the quilting process quicker. It's a similar technique to wholecloth quilt design.
Crazy patchwork: pieces of fabric randomly sewn together into blocks or a quilt top.
Curved piecing: Sewing pieces of fabric together with nice curves.
Deadstock: Left-over fabric from fashion houses and such. Too little is left for them to use, but it's enough for quilters to use.
Design wall: Made from flannel and some kind of isolation material. A design wall allows you to arrange your fabrics and quilt blocks before committing to any kind of design. An alternative for a design wall are your curtains or the floor.
English paper piecing: the technique of wrapping the fabric around a template. This is traditionally done with a hexagon shape, but can be done in a variety of shapes.
Fabric stash: The fabrics a quilter has in her room ready to be turned into gorgeous quilts.
Finish-high: that mysterious feeling you get when a project is finished against all odds or expectation. Usually, this has been a long-term sewing project.
Finger pressing: 'iron'  your pieces with your fingers, instead of an iron. I also find a smooth teaspoon works well.
Frankenbatting: When you have a lot of small pieces of batting left you can sew them together to make a big piece. This is called frankenbatting named after the famous sci-fi novel Frankenstein.
Foundation paper piecing: this quilting technique uses paper, a thin fabric or some other material, where the fabric pieces are sewn onto. This helps accuracy when making complex designs.
Fusible interfacing: A quilting aid you stick to fabric to help strengthen the shape of fabric pieces. This material has to be bought, so be mindful of how you use it.
Fussy cutting: Cutting out and using a specific piece of the fabric because you like the pattern, or it has a certain image.
Galloping horse rule: It is a tool used by quilters to check if your quilt is precise enough. The rule goes as followings: If somebody on a horse galloping past your quilt can't see the mistakes, there are no mistakes!
Kick Ass Quilt: Quilts that embody the values of Kick Ass Quilts of Sustainability, mindfulness, connection and joy.
Labeling quilts: The act of putting a label on your quilts so futute descendants and quilt historians know why, how and when your quilt is made!
Lap Quilt: A quilt of about 120 * 150 cm to use sitting down or for small children
Lining: fabric that is placed behind your fabric on display to give some extra strength or to prevent the top-fabric from moving. This is done with stretchy fabric, for example.
Log Cabin Quilt Block: A quilt block inspired by log cabins. It's shape is interlocking rectangulars.
Medallion quilt: A quilt with a large centre block with applique or pieced borders. This style originated in Europe.
Mindfulness: A peaceful state of mind as antidote to the chaotic world we life in. Can be reached through mindful quilting.
Mini Quilt: A quilt you can finish quickly. Afterwards, it can be used for decoration, a pet blanket or to display items on.
Memory Quilt: A way to keep memories close to you by using significant clothes and textiles into a quilt.
Nappy liners: nappy liners used for cotton diapers are a perfect background for foundation piecing.
Needle turn applique: sewing pieces of fabric onto a background fabric. While sewing, you fold the seems under to hide them. The stitches to secure the piece are also hidden.
Neglected floss: The embroidery floss not used when a project is finished.
Notions: The tools used to quilt with (eg, rulers, pins, etc.)
Offcuts: The fabric that is left after cutting a pattern piece out of a big piece of fabric.
Open seams: one seam at each side of the stitched line. This is a good technique to deal with bulk in complex patterns.
Orphan blocks: Leftover blocks from quilt projects. They are called orphan blocks because they do not belong to any quilt project and usually hang around in drawers and on chairs without a purpose.
Panel Quilt: Using one piece of gorgeous fabric as the center piece of your quilt.
Patchwork: a quilting technique in which several pieces of fabric are sewn together to form the block.
Pattern matching: Making sure that the pattern of 2 pieces of fabric continue when you sew them together.
(Fabric) piece: cut-out fabric sewn together to form the block.
Piecing: sewing together all the fabric pieces to form a block.
Quilt A Long: A joined quilt project where you work on the same projects as a group of people. This can be online, offline or a combination.
Pressing seams open: A way treat your seams. This technique reduces bulk at the back of your quilt top.
Quilt: An object created with the quilting technique, having several layers of fabric which are kept together with thread.
Quilt as you go (QAYG): this is a quilting technique where quilt blocks  quilted and sewn together before the whole top is done.
Quilting bee: a gathering of quilters where they quilt together, share stories and generally have a wonderful time.
Quilt sandwich: Name of the 3 layers of a quilt together. A quilt sandwich consists of the quilt top, batting and backing.
Quilt top: usually the side of the quilt with the design you had in mind, which consists of all the blocks sewn together. The quilt top is the one on display.
Quilting: sewing through all the layers of the sandwich. This is done to add to the aesthetic of a quilt, and to keep all the separate layers together, making the quilt durable and soft.
Rag quilt: a quilt where the seams are on the outside. The seams are snipped and will fray after putting the quilt through the washer and dryer. This creates an interesting look.
Raw edge: an edge where the edges of the fabric is not turned under. Basically, the edge of the fabric is left open. This will fray with time, which adds a nice element to your work.
Reduce, reuse and recycle: a sustainability concept guiding best ways to treat waste.
Reverse applique: instead of sewing fabric on top of a background the pieces are sewn behind the background fabric.
Right side of the fabric: the pretty side where the pattern and colours are most visible.
Roman Square Quilt Block: The Roman Square quilt block consist of strips of fabric attached at the long side. The Roman Square is very suitable to use scrap fabric
Sampler quilt: a quilt consisting of different  blocks. A sampler showcases blocks with a certain theme or displays the skills of a quilter. It can also be used to practise certain techniques.
Sashiko: A traditional Japanese embroidery technique. Modern quilters enjoy using it to sew through the layers of a quilt.
Sashing: strip of fabric in between quilt blocks. This is to space out the design and creates the traditional quilt look.
Scrap Quilt: Quilts made from leftover materials.
Seam allowance: When you sew pieces you need some fabric on each side of the line you sew on, so the finished work won't fray. The part of the fabric you don't see is called seam allowance. The standard is 1/4 inch, which is about 0.6 cm.
Seam: When you piece fabric together, you need some fabric on each side of the line you sew, so the finished work won't fray. The seam is around 1/4 inch or 0.6 cm.
Show & Tell: Name of the event and quilting bees to show each other the quilts made. It's a time of encouragement, tips, and compliments.
Solid fabric: a fabric of one colour without a pattern.
Stash: the collection of fabric and materials a quilter has.
Stitch in the ditch: quilting in the seam where two fabrics meet, aka 'the ditch'. This makes the quilting near invisible.
Sustainability: Create live, society and business in such a way future generations can life the same life as we are living, globally.
Sustainable Fashion: A fashion industry and practises that is healthy for people, planet and profit.
Tying a quilt: instead of quilting by sewing through the three layers, knots are made with pieces of thread in key places of the quilt. Sometimes buttons are added as well.
Upcycling: Re-purposing old clothes and other fabrics into useable objects.
Walk by method: A design trick to test your quilt lay out on a subconscious level.
Wholecloth quilt: A quilt with the focus on the quilting. Usually it's done with white thread on a white background. However, modern quilters use any kind of thread and colour combination. It's comparable to sashiko.
Y-seam: joining three pieces of fabric together where the seams have a Y-shape. This requires a certain technique, called the Y-seam technique.