In this article
Table of contents
Articles in this category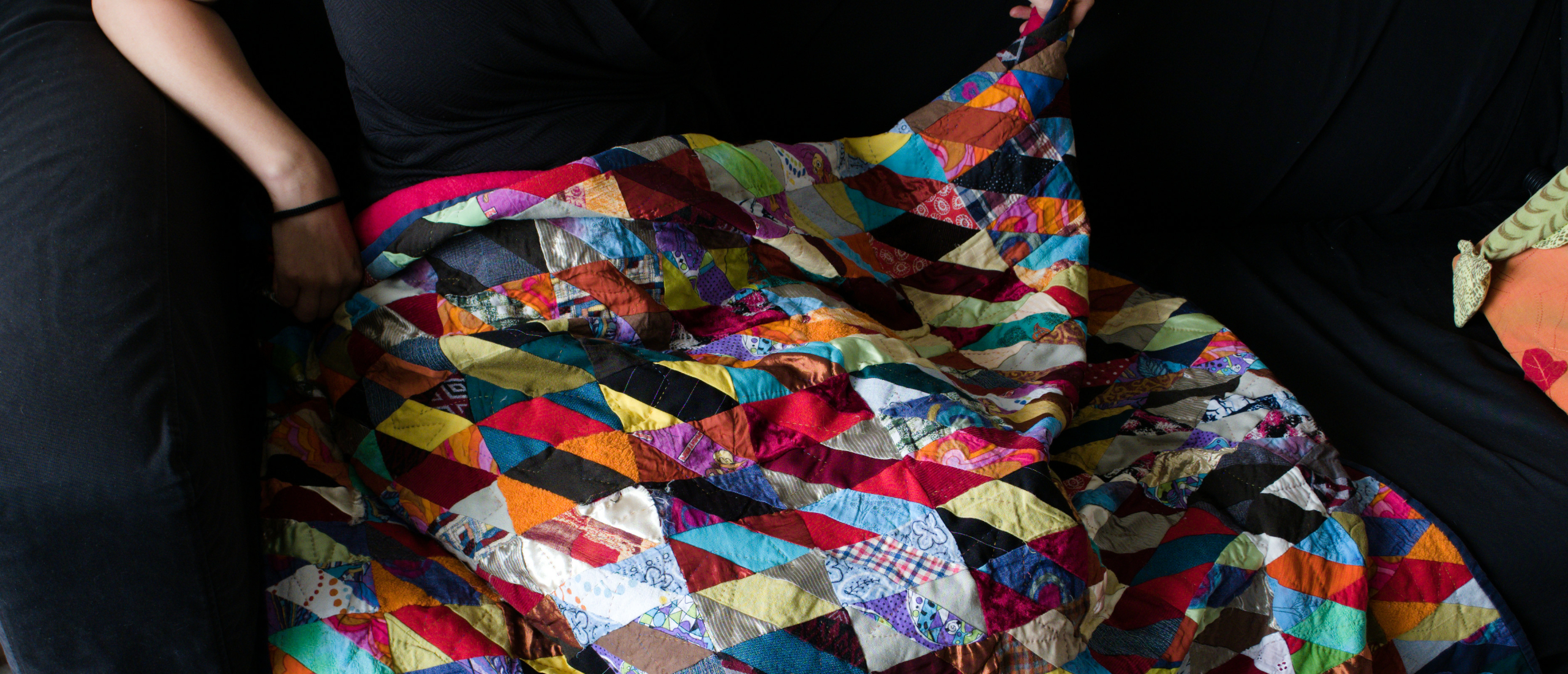 Lap quilt: a quilt to keep you warm while sitting down
A lap quilt is a blanket of about 120 × 150 cm. They are called lap quilt because they are the perfect size to use sitting down. However, they are too small for a regular sized bed.  On the other hand, they are perfect for a children's bed.  
Do you have a lap quilt to show?
Do you have made a lap quilt made from scraps, discarded fabric or old clothes? Or do you own a lap quilt made by someone else? I'd love to feature your quilt in this article in Kick Ass Quilts online Quilting Bee! Email me at rianne@kickassquilts.org.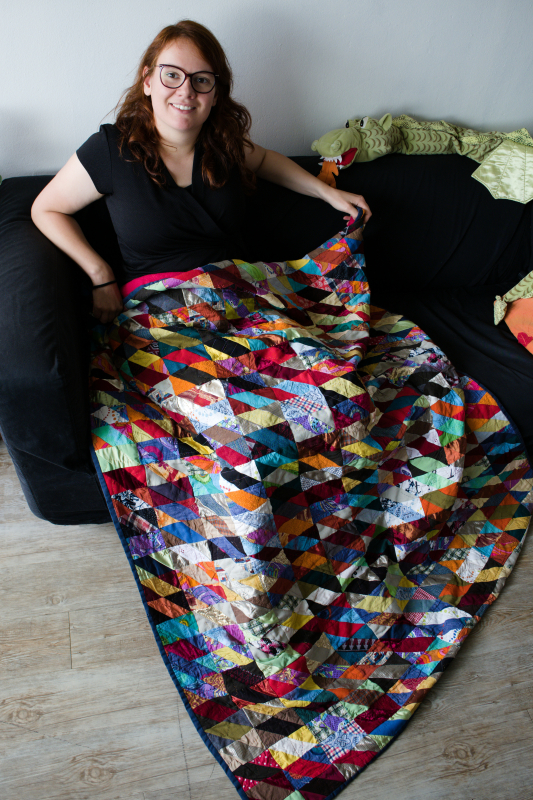 Example of a lap quilt made from scraps
Common uses of the lap quilt:
Keeping an adult or child warm in the seating position during: 

Cold evenings
Outside on a porch
For wheelchair users 

Keeping the elderly or sick warm
A snuggle blanket for children
A baby blanket and feeding blanket to keep the baby and mother warm
First quilt for a newborn baby! And later the quilt can be used on bed
The beauty is that a lap quilt made with love and intention makes the user feel special. The patterns and colour used can be tailored to the preference of the user. It is much better than a store-bought blanket! 
Conclusion: a smaller sized-quilt to keep you warm
A lap quilt is a bit smaller than quilts commonly used as bed covers. This makes the quilt more portable and also suitable for younger children. 
A quilt has insular qualities, keeping the wearer warm for a long time at evenings or in the outdoors. Also, it can be used as a picknick blanket during the day or as a soft spot to lay on. 
Also, quilting through the three layers creates little pillows which offers tactile distraction in times of stress. 
Lastly, a lap quilt made from old clothes creates a unique item to be treasured for a lifetime. Think about it! You can even use clothes that hold good memories for the person the quilt is meant for! In this way, the lap quilt gives a new life to treasured old garments. 
Using clothes and fabrics you have prevents it from going to landfills, and also gives a new life to treasured old garments. 
How to sew your own lap quilt
Do you want to create your own ' Lap Quilt Sampler to Save the World?' 
In October, November and December, Quilt College is all geared up to teach you how to make your own lap quilt. The form will be a sampler quilt. A sampler quilt is one whole with different patterns and techniques. It teaches you different quilt skills you can apply to all your future projects.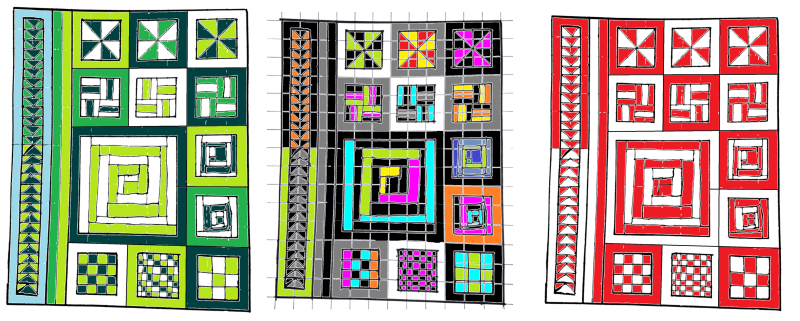 Drawing examples for the ' Lap Quilt Sampler to Save the World' 
The lap quilt sampler teaches you:
5 basic quilt blocks 
Colour and fabric choices, with a focus on using old clothes and upcycled fabric
Basic techniques to integrate quilt blocks into a bigger design
How to finish a big quilt to make it warm and comfortable
We call it the ' Lap Quilt Sampler to Save the World' at Kick Ass Quilts  because by re-purposing and giving a new life to discarded textiles you are saving the world a tiny bit! 
Become a member of Quilt College to get access to the class and the community! You can follow the classes at your own pace, and get support and inspiration from the community. Also, I share extra tips to quilt sustainably in the community
Click here to find out more about Quilt College Membership. The first global sustainable quilting community.