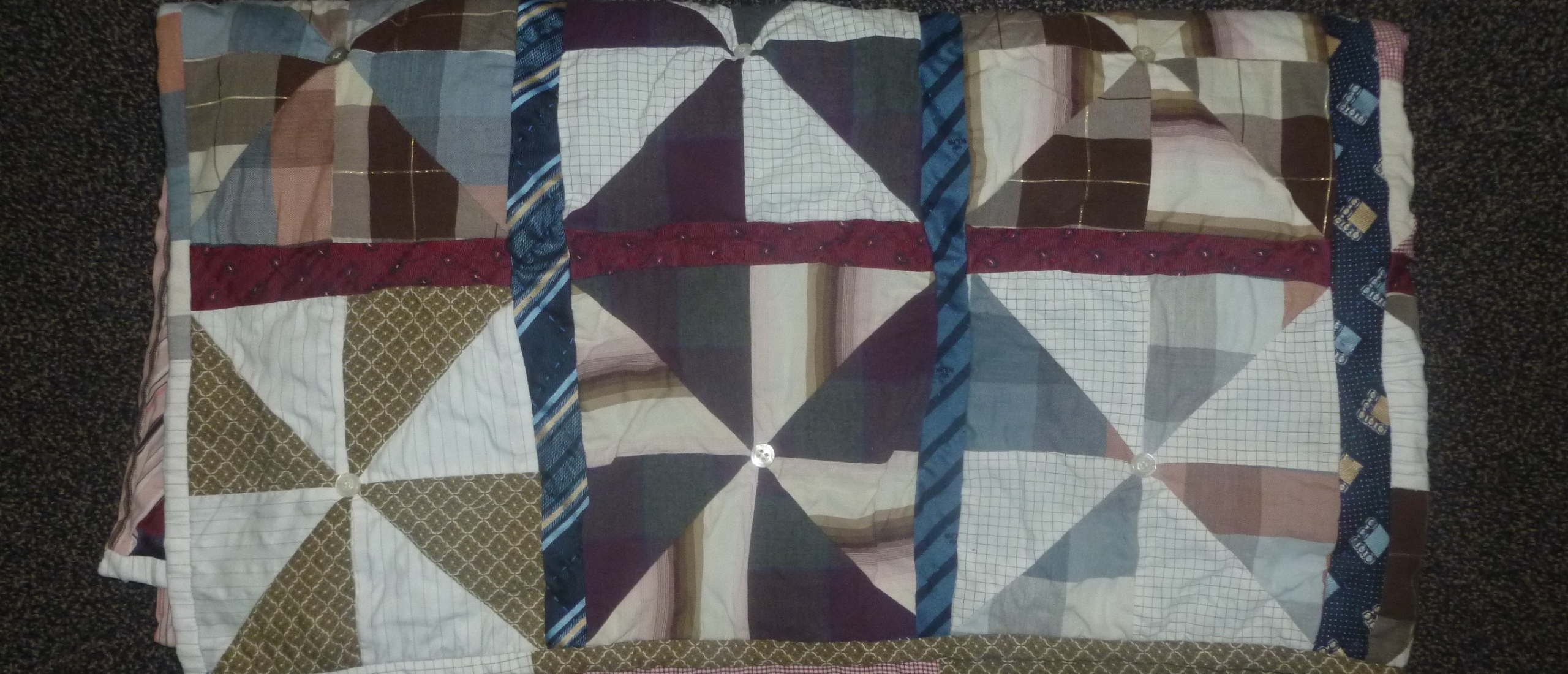 What are the basic parts of a quilt
1. Introduction: what is a quilt and why do they matter?
This article explains all the different parts of a quilt, and which role all those parts play to create beautiful quilt masterpieces.
Use the index on the left to navigate to specific parts of the article.
1.1 Online Quilting Bee and Show & Tell
This article is part of the Online Public Quilt Library of Kick Ass Quilts. My aim is to make this library an online quilting bee where everyone can share their quilts and learn. If you'd like me to use one of your quilts in my articles, email me at rianne@kickassquilts.org or send me a message on Facebook or Instagram. Mention the name to mention with the quilt and some background on the quilt, design, materials used, or anything you'd like to share.
Let's make this a gorgeous and divers online quilting bee together!
Quilts show that humans have the need for beauty, by making every day use objects.
1.1. What is a quilt?
Discussions over what a quilt actually is has caused many fights. Especially between those who put a lot of importance to sticking to a precise definition and those people who don't (I belong firmly in the last group). However, to give some structure for those who have no idea about quilting, let's start with the definition of the Cambridge Dictionary:
"A covering for a bed, made of two layers of cloth with a layer of soft filling between them, and stitched in lines or patterns through all the layers."
This is more or less true. However, there are exceptions to this 'rule', many... For example, a quilt can be much more than a covering for a bed. Also, the 2 layers with filling is not a must: there can be no under layer, or there can be more than 2 layers. Additionally, the words quilting, quilter and quilted are used in many different ways, something explained in this article.
An example of a different use for a quilt is a backpack. This backpack is made from upcycled curtain fabric. The penguins are made with foundation paper piecing quilt technique.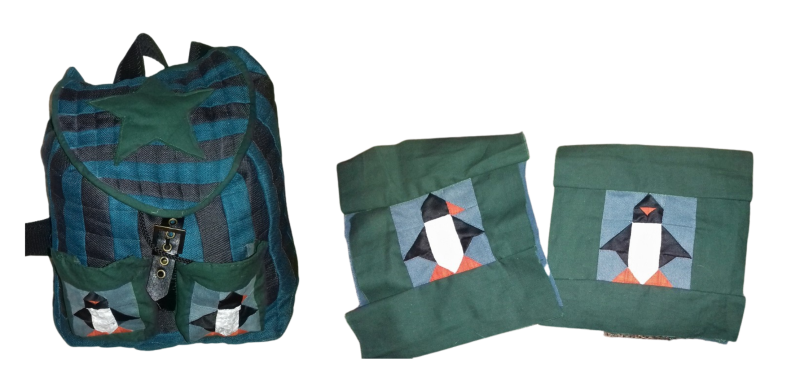 This quilted backpack is only one example of what a quilt can be. It is easier to explain all the different object a quilt can become by telling about the different uses in history, current day and the future.
1.2. What is a quilt used for?
1.2.1 Historical use of the quilt
Historically speaking (like way back history before internet) a quilt has 3 main purposes
1. Warmth --> The inner layer of the quilt makes it warm and works as insulation. Especially when made with wool. The quilting technique has a way of retaining warmth, making it ideal for colder climates. There are stories of poor people who turned the only clothes they had into quilts, because a quilt would keep the whole family warm.
2. Strength --> The quilting of the separate layers adds a lot of strength. To such an extent that quilted garments were used as light armour or as protective layer to give comfort to persons wearing a heavy armour.
3. Shape --> Quilted petticoats were used to give women the desired shape and figure. Sometimes they even added several layers of petticoats! This also kept the woman warm in colder climates.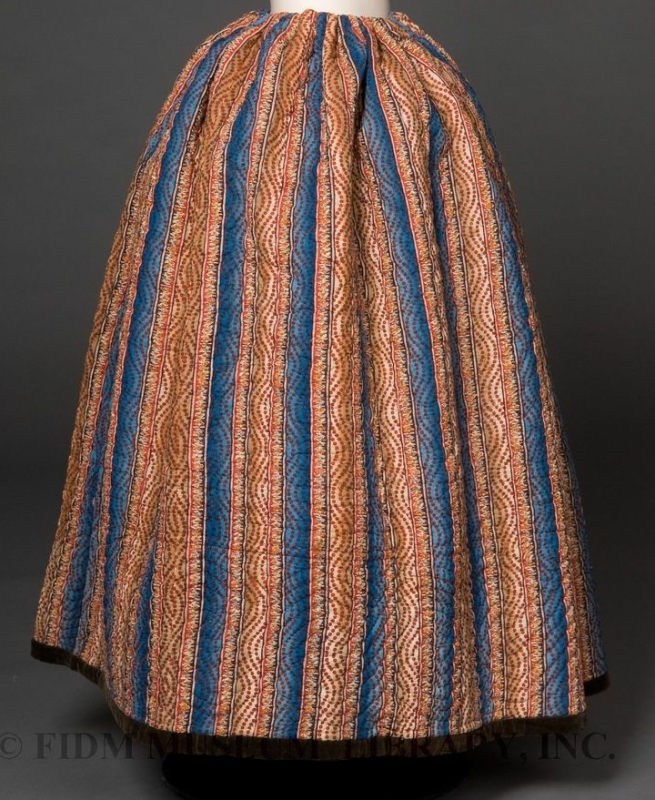 Quilted petticoat - Gift of Anna Bing Arnold FIDM Museum collection
Over the years, the historical uses have diminished and the use of quilts have changed. It has shifted more to blankets and an ornamental value as wall hanging or table runner. However, you still see quilts used for bags, clothes, pot holders and other domestic use items.
One thing has stayed the same: a quilt has always been a combination of an indispensable practical item, with great artistic value for both the maker and the user. Even when quilts are only seen by the owner, tremendous attention is given to technique, fabric use, colour choice and pattern. 
a quilt has always been a combination of an indispensable practical item, with great artistic value for both the maker and the user.
Quilts show that humans have the need to make objects of everyday use pretty. Even the poorest of people who made quilts from scraps paid attention to pattern and technique and made beautiful quilts out of whatever live served them. And that is the spirit of make-do in quilting: making a useful object, with art and creativity, that will be treasured and used and loved for as long as possible.  
Below is an example of such scrap quilts made by Mary Lee Bendolp of the Gee Bend Quilters.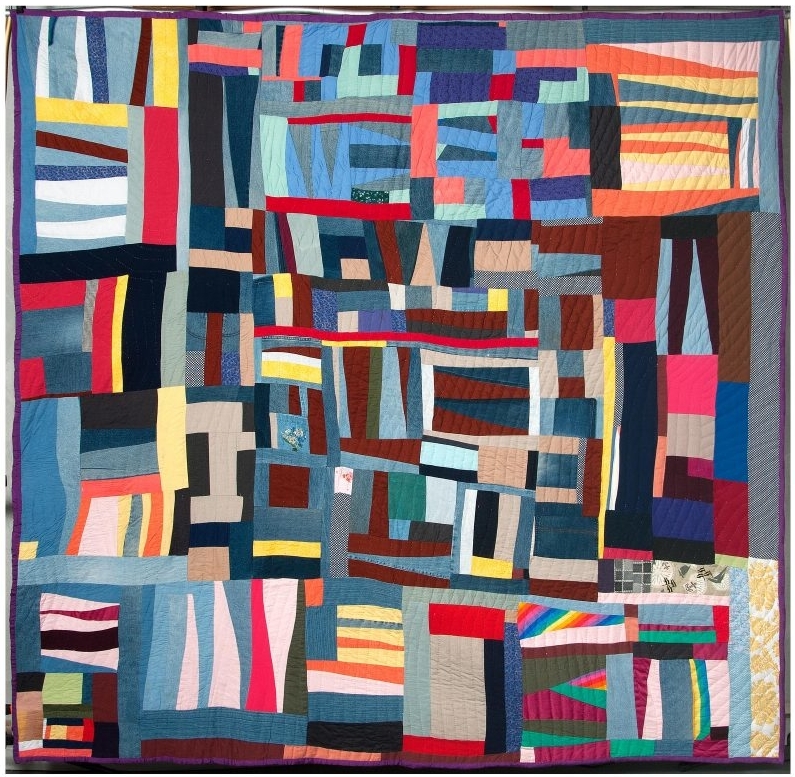 "Grandpa Stripes," Mixed fabrics, including cotton, denim, polyester satin, and synthetic brocade, 92 x 94 inches, 2010. Image: Courtesy of Rubin Bendolph Jr. in honor of Mary Lee Bendolph. 
1.2.2 Use of the quilts nowadays
Nowadays, quilts are mainly associated with hobbies and grandmothers making blankets for all their grandchildren. That is, by the people who don't know about quilting. Once you set a foot in the global quilting community, you find out that it is much, much more.
The use of quilting has possibly only grown, and also the kind of people participating in the art. Yes, there are still grandmothers, but also grandfathers, young people, activists, craftivists, black lives matter, climate change, quilts for bikers, quilts for marginalized communities, quilts for orphanages, quilts made from Kenyan fabrics and from batiks, quilts for indoor and outdoor use and I could go on the whole day. 
Any kind of person, movement, or application probably has a quilter or a quilt group associated to it.  Here are some examples:
1.2.3 The future of quilting: from scrap quilts, to quilt shop fabric, and back to scrap quilts…?
The greatest move is from an emphasis on using scraps and scrap-quilts to buying fabrics for quilts. Obviously, buying also happened in the 'old days'. However, the habit has increased a lot. Quilting fabric and notions, the tools you quilt with, is a multibillion global market.
Making quilts from scraps and old clothes is still alive, too, though. Especially for memory quilts where the particular clothes used have a significant role in the quilt as a memory to a loved one or a specific event. The quilt below is made by my mother with old shirts from my uncle, father, grandfather and little nephew. It is a joy to look at the quilt for the whole family: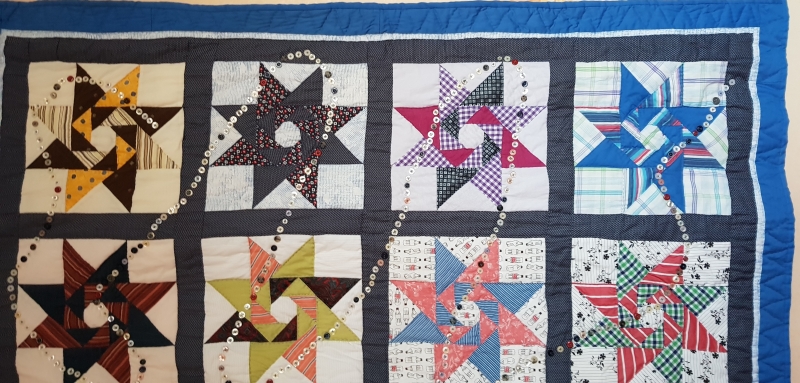 Revolving Star family quilt made by Karin Doller
The greatest future potential of the quilt is to make living more sustainable. For that, we move back to the techniques of using old clothes and every scrap of fabric in our quilts. In that way, the lifetime use of fabrics is increased, and the demand for resources regarding fabrics and cloth is reduced. The fabric industry is one of the most pollution industries, so it is timely to make improvements in that direction. 
The greatest potential of the quilt for the future is to make living more sustainable.
The possibilities of scrap quilts are endless, and using old clothes or scraps doesn't have to be limiting. All the pictures of my quilts in this blog use old clothes or otherwise recycled fabrics in one way or another. Also, once you start classes in the Quilt College, you will discover for yourself how much can be done with fabrics you already own. 
Also, here is some inspiration from other quilt artists who use clothes and otherwise reclaimed or sustainable fabrics:  
Zak Foster with a brilliant quilt made from eco-friendly organic cottons: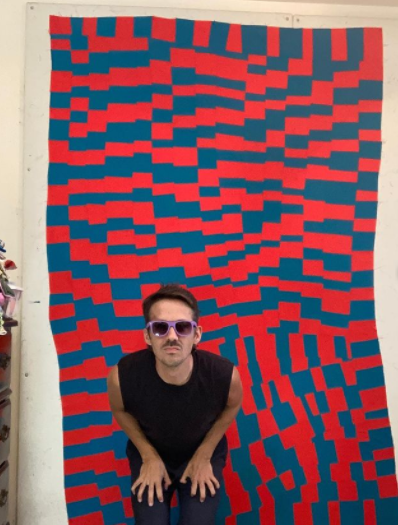 Zak Foster quilter, in front of his quilt made with eco-friendly organic cotton


Sonjaegge with a quilt made from scrap fabrics.
1.3 Why do quilts matter?
It is clear now that a quilt is more than a practical object to keep you warm at night. A quilt is much more: they express love, care, artistry, and they show the need to create beauty in ordinary life. The meaning of the quilt is also carried out through the key values of connection, sustainability, mindfulnesses, and joy, of Kick Ass Quilts, they are chosen because they are also key to what makes 'the quilt' important.
Quilting encompasses key values of what makes us human and through which we can find greater connection with humanity and each other.
Quilts were not only important historically speaking, but are still relevant and important today and for our future. Quilting encompasses key values of what makes us human and through which we can find greater connection with humanity and each other. In that way, quilts also play a part in sustainability and the future of our planet.
They key values are also explained in this video.
--> Connection
Quilts have always been a way to bring people together. Be it in the form of quilting bees where women work on a quilt together, in the form of sharing patterns and quilts with friends and families. Or by giving a quilt to someone as a way of saying you love them and are thinking of them, even when you are miles apart. Also, quilting connects people from all over the world through the love for fabrics and making beautiful artworks with them.
--> Sustainability
Quilting is a way of extending the life-time use of cloth. Even the smallest scrap of fabric can get a new life in a quilt. Also, because quilts are made with intention and time, they are meant to be used for a long time once finished. They are durable objects, which makes them sustainable because it removes the need to buy things. Discarded items are given a new life and become useful again.


--> Mindfulness
A quilt gives peace, both when making it and using it. Quilting is meditating. Receiving a quilt is knowing you are cared for. Also, a quilt holds the memories and energy of the fabrics you've used to create it. It is a perfect way to hold the memory of an event or a person, whether they are grown-up or passed away.
--> Joy
Quilt brings joy and beauty to the ordinary and every day. Quilts have done that from their conception up until this day and age. I think that is beautiful. Also, the idea that woman saved all their scraps and traded them with friends to get the best designs shows that humans need beauty in their lives and will always find it…
At its core, quilting is creativity, and creativity knows no bounds.
2. The quilt sandwich: three layers of a quilt
A quilt generally consists of three layers: the quilt top, batting, and backing. All three layers together is called a quilt sandwich. However, remember, exceptions make the rule, so anything told here can be done differently as well. At its core, quilting is creativity, and creativity knows no bounds.

Diagram of the components of a quilt sandwich
2.1 Quilt top
The quilt top is the part of the quilt on display with the image or pattern you've made. The specific word used for creating the quilt top is piecing. This is to distinguish from the action of sewing through the layers, which is called quilting. Often, a distinction is made between the two terms among quilters, to make clear which part of the quilt making they are engaged in.
The specific word used for creating the quilt top is piecing. This is to distinguish from the action of sewing through the layers, which is called quilting.
Also, often quilters have a preference for one or the other. The different words make it easier to differentiate.
A quilt top can be made in any technique you want. There are 4 basic quilt techniques, but that list is by no means exhaustive.
Patchwork
English paper piecing
Piecing
There are several components to a quilt top. Which components are used depends on the technique used:
Fabric pieces
Quilt block
Sashing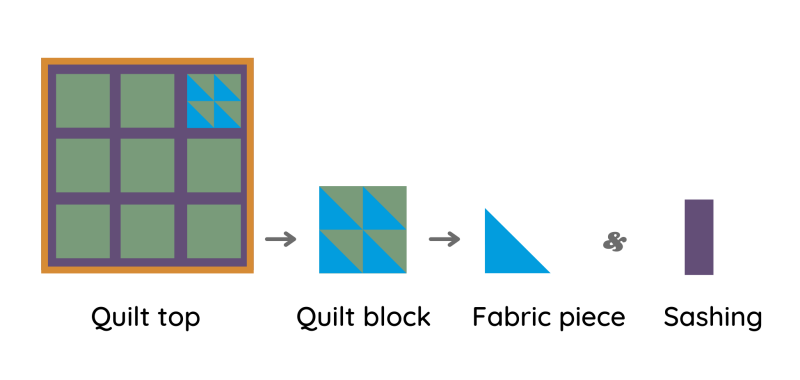 Part of a quilt top diagram
2.1.1 Fabric pieces 
The smallest parts of a quilt. All the fabric pieces together creates the quilt top. The fabric pieces are pieced together in any technique you want. Choice of technique depends on the image or quilt pattern you want to use.
The easiest fabric to work with is 100% cotton. However, in the spirit of make-do and sustainability, quilts can be made with any kind of fabric you want. Some fabrics might require a specific technique to work with and to make the quilt last for a long time. You can learn how to in Quilt College.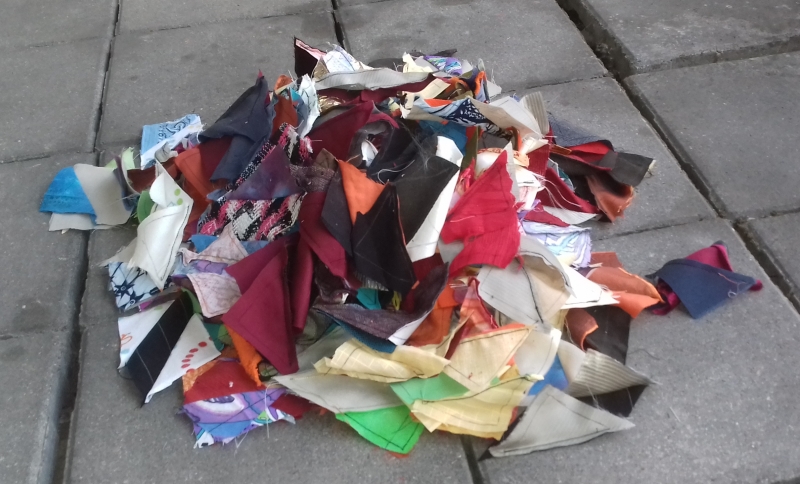 Pile of fabric pieces of the Ultimate Scrap Quilt
2.1.2 Quilt blocks
A quilt block is made from the fabric pieces. I mention it as a separate part of a quilt because quilt blocks are made to not confuse yourself while quilting. Often, a quilt top is separated into several quilt blocks to make the piecing manageable.
Also, separating the quilt top into blocks allows you to re-arrange the layout to the best possible composition before sewing any pieces together.
This can be done on the floor, but also on a design wall or your curtains. 
Here you see an example picture of quilt blocks. The pattern is the windmill quilt block, and the quilt is made with old men's shirts and ties.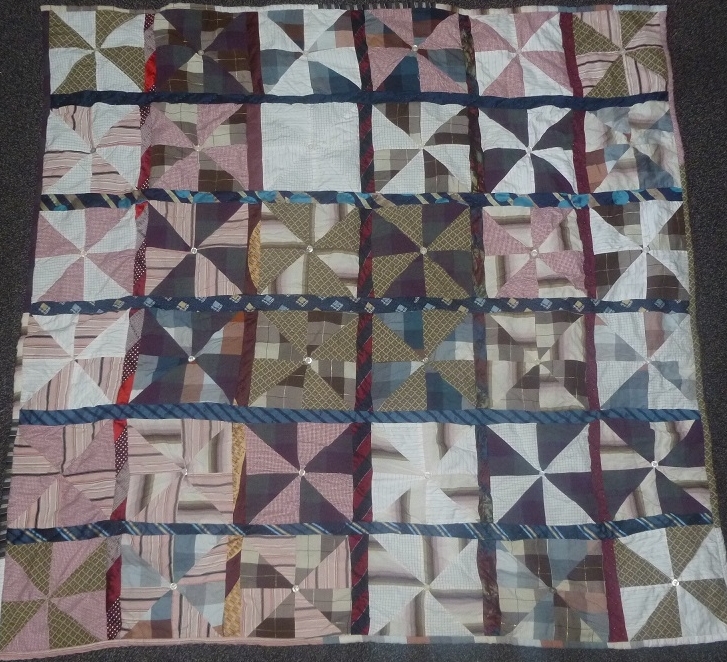 Shirt and Tie quilt with windmill quilt block pattern and sashings.
2.1.3 Sashing
When piecing together all the quilt blocks, sashings can be added. However, this is optional. Here are some examples of where it pays of to use sashing:
To give room to the design of the quilt block. Using sashing makes the quilt block design stand out better.
Unite all the quilt blocks by using sashing in a complimentary colour.
Increase the size of your quilt without having to piece more.
Add some pop or boldness to your quilt by using a contrasting colour.
To unify the size of your quilt blocks. Sometimes you have quilts blocks of different sizes, and when you add sashing with different widths to make the blocks the same size.


In the close up picture of the quilt above you can clearly see the sashings in red and blue. The sashing is a great way to give the more mutes colours of the blocks some kick. The sashing are made from ties, which makes them shiny which also adds a nice effect to the quilt.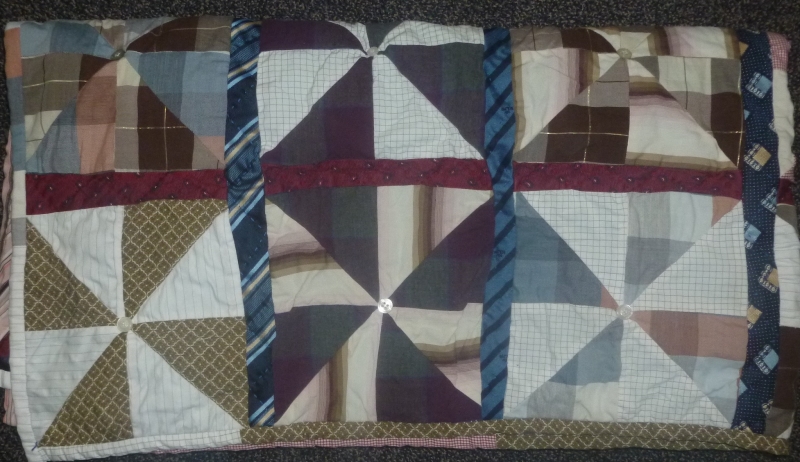 Close up Shirt and Tie quilt with red and blue sashings from old ties
Once all your fabric pieces, quilt blocks and sashing are sewn together, the quilt top is finished.
2.2 Batting
The batting is the inner layer of a quilt and gives the quilt it's strength, warmth, softness and insulation qualities, all depending on the material used. Example of materials are.
Wool
Bamboo
Polyester
Cotton
Batting can be bought for your quilt, but you can also use upcycle materials such as old blankets, fleece blankets, duvets, towels, and sweaters. My advice is to upcycle wherever possible to create a more sustainable quilt.
2.3 Backing
The backing fabric is at the bottom of your quilt. Usually it consists of one big piece of fabric because its sole purpose is to close down the quilt and hide the batting and seams of your quilt at the back.
Any kind of fabric that is big enough would do, however some quilters buy a piece of fabric, because you don't often get the chance to use such a big piece of fabric as a whole.
Bedding is ideal if you want to upcycle.
In the pictures below you see I used a large piece of fabric I had left. The fabric is also used in the top of the quilt to create a sea effect. It creates unity in the top and back of the quilt when you use the same fabric.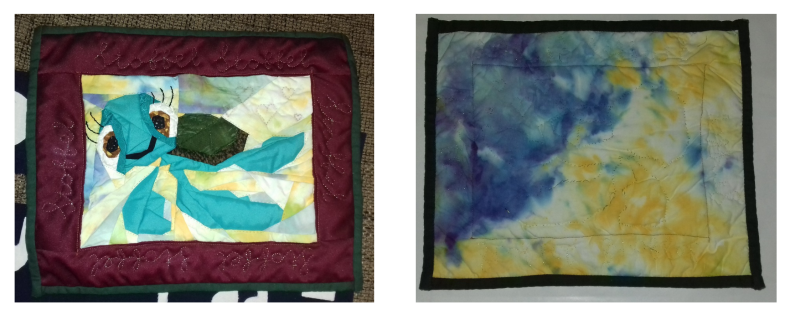 Example quilt top and similar backing fabric
2.4. Basting & Quilting: tying the quilt sandwich together
The next part of creating the quilt is the quilting. In this case, quilting means sewing through all the 3 layers of your quilt to attach them together. This can be done by machine or by hand, whatever you prefer.
However, before you start quilting, you first attach the layers of the quilt sandwich with temporary stitches or some pins. This is called basting, and is to prevent the layers from shifting while quilting them. The stitches used in basting and quilting are the same, only the basting stitches are much longer (1-2 cm), and the quilt stiches are small (around 0.5 mm).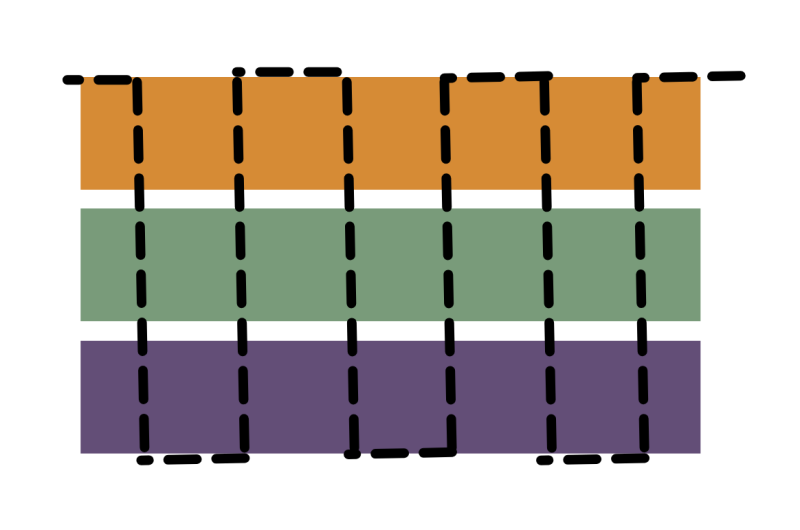 DIagram of basting and quilting stitches through 3 layers of the quilting sandwich
Quilting can also be done on a quilting frame or a long-arm quilting machine. The frame will keep the layers of your quilt sandwich together, which makes the quilting easier. However, I still advice to bast your quilt.  

Lastly, it is possible to send your quilt sandwich to a professional quilter to quilt it for you on a machine.
Your choice of quilting and batting depends on the purpose and style of the quilt.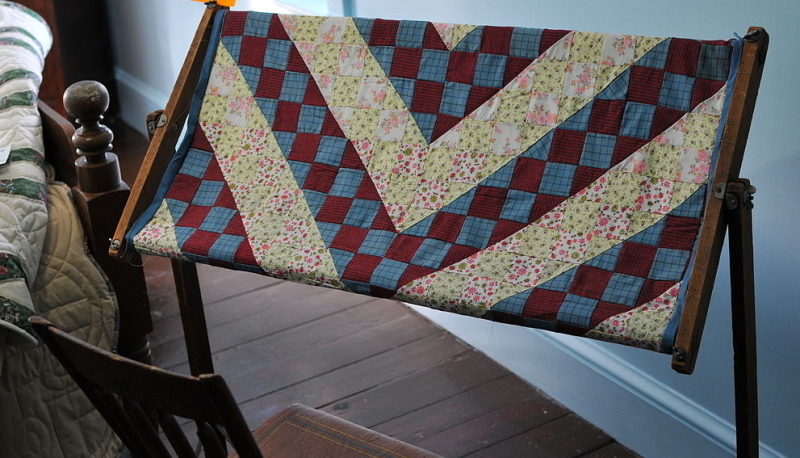 Hand quilting frame used by the Amish
3. If you love it, put a ring on your quilt
The quilt border is the last part of a quilt. It closes in the last raw edges of the quilt and gives it a nice finished, clean look. The border is the orange part in the diagram below.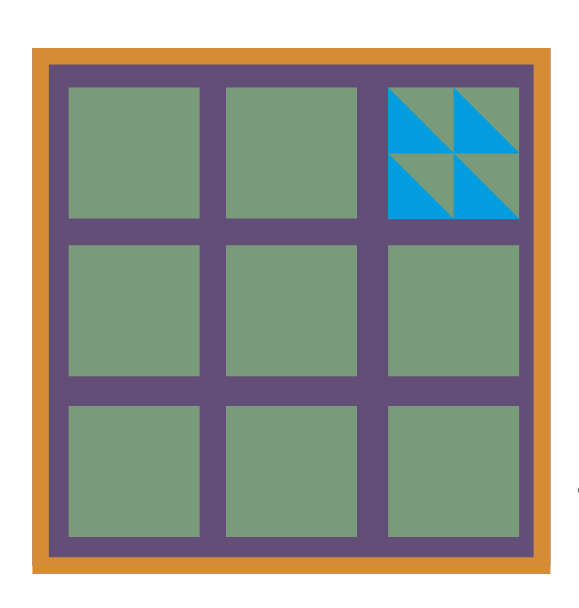 Diagram of a Quilt
There are several ways to create a border, all of which have different fabric requirements. One technique is to fold the edges of the top and the backing inside, and securing the edges of the quilt like that. In that case you don't need separate fabric for the border. Another technique is to add a border with some extra fabric. The last method is most common.
The most important part of the border of a quilt is that it shows the quilt is finished, and it speaks of the joy of finishing the quilt, and pride in the accomplishment. Now the quilt is ready to be loved.
Every quilt is worthy to be proud of when finished. Each quilt is a journey you have taken, at the end of which you gained new experiences and skills, with as extra outcome a beautiful object to use. You are a different person from the start and end of making a quilt, and that deserves to be recognized and celebrated.
The dark purple is the border of the mini-coaster sample I made for Quilt College.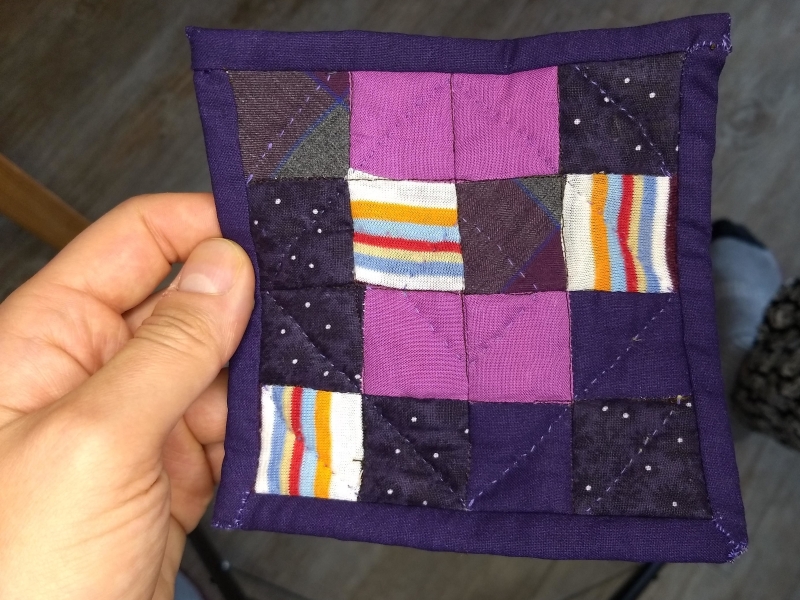 Border example of a mini quilt 
4. (optional) Label your quilt to help future quilting historians
The most difficult part of historically dating and finding the maker behind a quilt is because they are rarely labelled. Neither the maker of the top nor the maker of the quilt, often these are different people, put their name on the quilt. Part of the reason for this is that quilting, although considered necessary, wasn't considered art or important. It was woman's work, they did to keep their families warm and to have expression for their individual creativity.

Luckily that perception of quilting is changing, albeit slowly.
Meanwhile, the habit of labelling quilts has become more normal. It is not a must, but a label helps to trace back and recognize you as the maker of the quilt. This is especially relevant when your quilt becomes a generational piece. Image how your great- grandchildren would feel when they read your name on the quilt that's keeping them warm at night. And with proper quilt care, a quilt will last that long.
Also, when a quilt is upcycled it is interest to put something about the materials used on the label. In this way, the next generations can learn from our thrifty attitude!
My advice is to upcycle wherever possible to create a more sustainable quilt.
5. Conclusion: Quilts are important to give and share, and foster connection
5.1 Join the show & tell and online quilting bee
This article is part of the free Online Public Quilt Library of #kick ass quilts. In the spirit of the tradition of quilting bees and Show & Tell, everyone has a change to display their quilts in the public library. Do you have a quilt that fits the description of anything I've explained, or do you have a quilt you just love to show? Email me at rianne@kickassquilts.org or send me a message on Facebook or Instagram, and I'll make sure the quilt is displayed. Include which name you want to display with the quilt and a little bit of the background, techniques, and fabrics used in the quilt.
Let's make this Public Library an Online Quilting Bee together and bring knowledge of quilting to a wider audience together!
Especially of sustainable quilting, cause it comes with the knowledge of having caused no harm.  
References
1. Quilts, Their Story and How to Make Them
2. https://dictionary.cambridge.org/dictionary/english/quilt
3. https://fidmmuseum.org/2009/12/quilted-petticoat.html
4. https://www.theartblog.org/2018/10/piece-together-the-quilts-of-mary-lee-bendolph-at-swarthmores-list-gallery/
5. https://commons.wikimedia.org/wiki/File:Amish_Quilt_(5531090270).jpg
Images disclaimer: Images and diagrams are made and owned by Rianne / Kick Ass Quilts unless mentioned otherwise