Articles in this category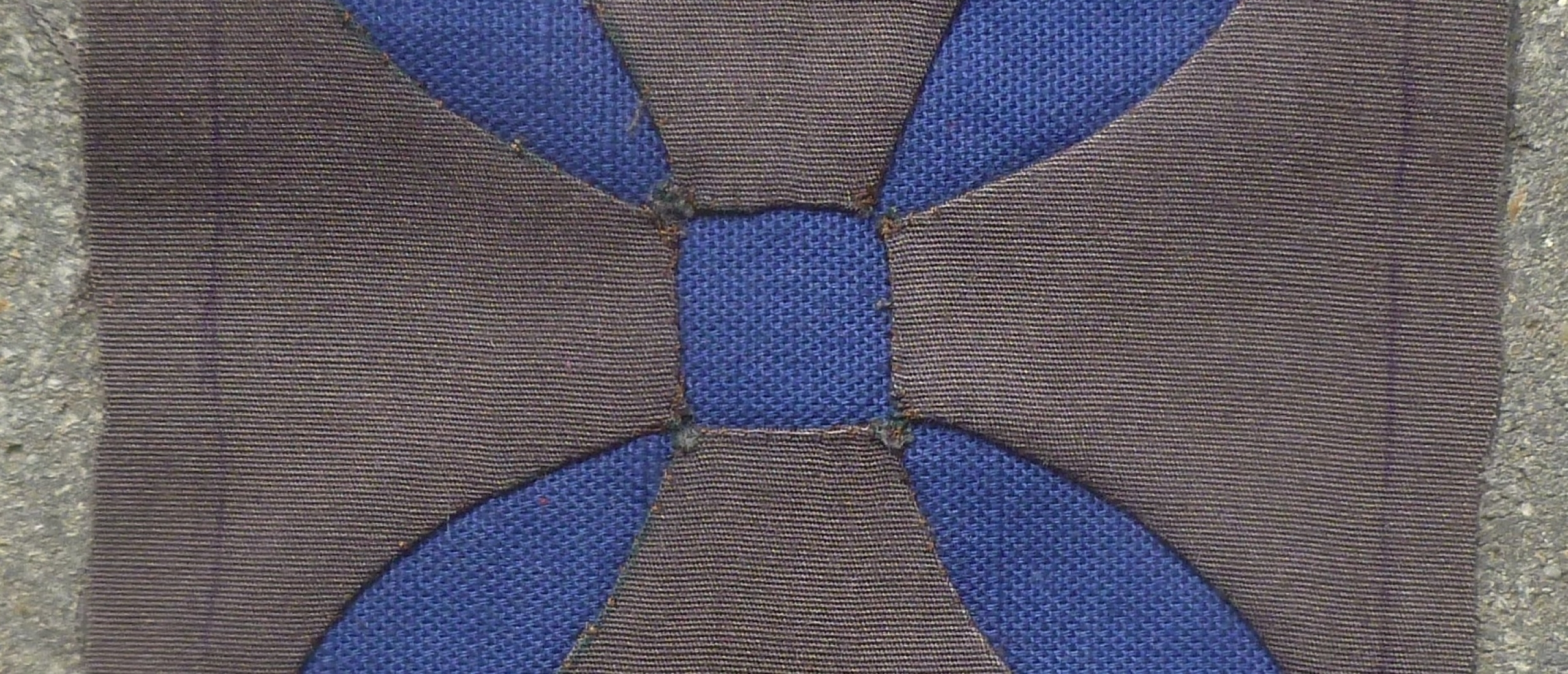 Quilting techniques: Applique
Applique: Sewing pieces of fabric directly on top, or below, another piece of fabric.  This is done in intricate shapes. Applique allows creating complicated shapes out of one piece of fabric. 
1. Introduction: What is applique quilting?
Applique is one of the 4 foundational quilting techniques. The four foundational techniques are: 
Patchwork (also called piecing)
Applique
English Paper Piecing (EPP)
Foundation piecing
You often find that a combination of these techniques is used for a quilt. In this article, I'll tell you about 4 basic applique techniques. 
The beauty of applique is that it is easy to create complex sceneries and images without having to use a lot of small pieces. For example, with patchwork you sew pieces of fabric together in straight or curved lines, which limits the possibilities of what you can do. With applique, you can cut out any shape you want and attach it to fabric. 
The downside of applique is that it takes more practise to do neatly. 
For applique, you either sew a piece of fabric on top of your quilt block, or you sew the piece of fabric behind the quilt block as shown in this diagram:

In this article, I'll explain four basic applique techniques in order of complexity, starting with the easiest technique. 
Raw edge applique
Applique with fusible interfacing 
Reverse Applique
Needle Turn Applique
3. Raw Edge Applique
The hardest part of applique is taking care of the edges of your fabric. Therefore, raw edge applique is the easiest technique because you don't take care of your edges. 
When using a raw edge, over time the edge will fray, leaving a nice design element to your quilt. However, make sure you leave a big enough edge, so the fraying won't interfere with the stitching, so your piece comes loose. If you quilt over the applique pieces later, this is less of an issue, because it will add an extra layer of attachment. Attach your pieces with a zigzag stitch to secure them well.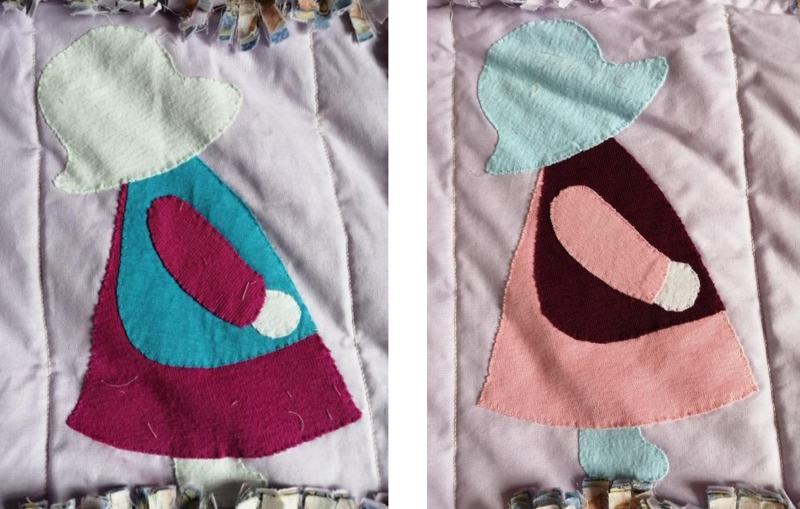 Quilt by Avril Richardson (@jolsiestitches)
4. Applique with fusible interfacing.
This technique makes it easier to work neatly, because it gives strength to the shape. For example, if you have very stretchy fabric, and you put a piece of fusible interfacing on it, the stretch will diminish, and you can sew without distorting the stretchy fabric. Fusible interfacing has one sticky part, and one part that sticks when you iron it. 
When using fusible interfacing, the applique piece is attached to your quilt block without sewing. However, it's recommendable to sew over the edge with a zigzag stitch. I trust thread more to stick around for a long time, rather than glue.
Using fusible interfacing is very useful to create complicated shapes like the music notes and phases of the moon below. It would have been hard to get the round shapes neatly with any other quilting method.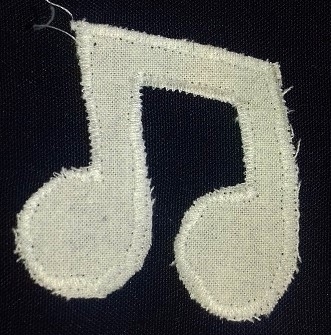 The downside of using fusible interfacing is that you need to buy extra materials. I have not found anything, yet, I can re-purpose into interfacing. You can't really get the sticky part of interfacing without buying it new.  So be mindful for which projects you use it. 
5.  Reverse applique
This is my favourite technique because it doesn't require any extra materials, and is easier than needle-turn applique. 
Reverse applique, and needle turn applique use the same sewing techniques. Both techniques attach the applique piece to the quilt block with pins. After that, you fold away the edge and secure it with a blanket stitch or whip stitch. 
With reverse applique your edge is from the bigger quilt block. This is because you attach the piece below the quilt block (see the diagram in the introduction).  This gives you more material to hold onto, and also generally gives you more spaces for the edge fabric because it's folded under the quilt block. This makes reverse applique easier, because with needle turn applique you have too much fabric for a very small space, and it's fiddly work to get it all tucked away nicely.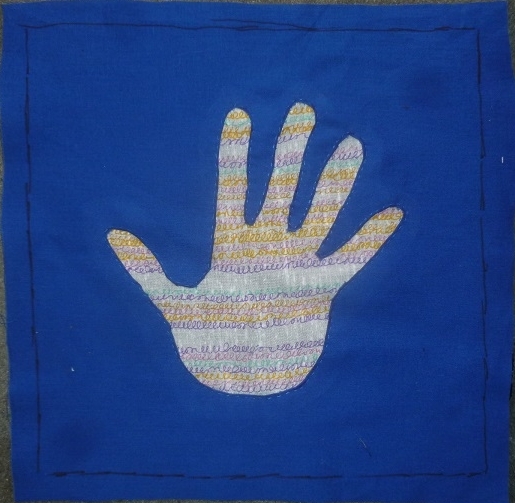 6. Needle turn applique
This technique is called needle turn applique because you use your needle to fold under the edge of the fabric of your applique piece. 
The difference of needle turn applique with reverse applique is that you attach your applique pieces on top of your quilt block. Consequently, the edges of the piece come from the applique piece and are folded underneath it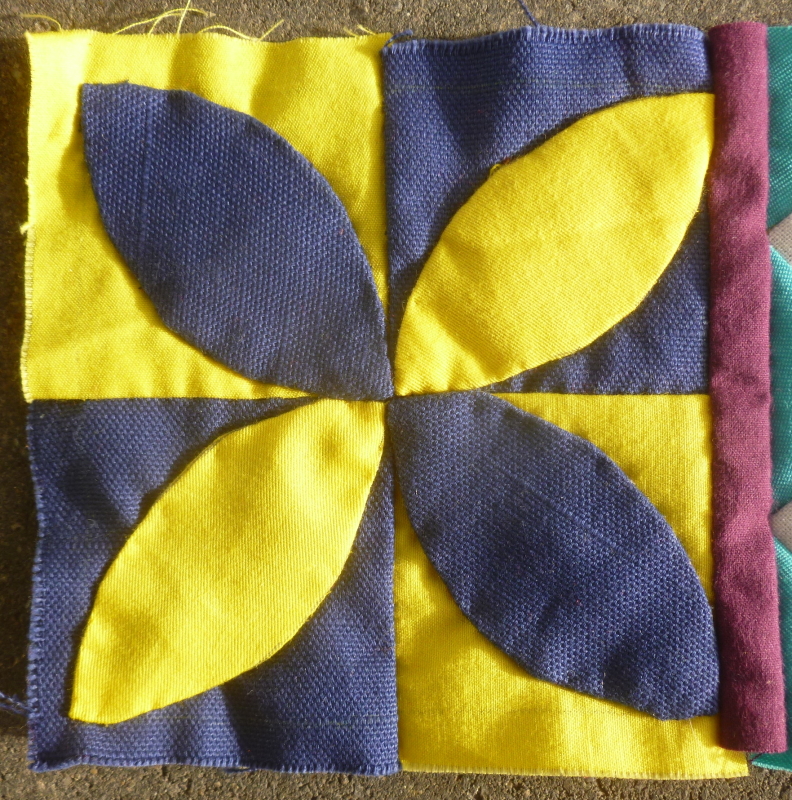 Some people use interfacing for needle turn applique, but the kind that only sticks to one side. This makes it easier to fold under the edge neatly and to keep the shape of the applique piece. However, this requires extra materials you need to buy, so I do not recommend this. 
7. Conclusion: Which applique technique do you use most for quilting?
This article gives you a general idea of quilting applique techniques. There are many more applique styles and variations around. If you would like me to explain something more or to discuss another technique, drop a comment below.
There are many variations on the applique quilting techniques I've explained in this article. If you want me to explain any other techniques, drop a comment. Also, feel free to ask any questions in the comments too. It is my job to teach you how to become a confident quilter.  
Kick Ass Quilts aims to create an online quilting bee. Therefore, in the tradition of the quilting bee, I want to use articles as the show & tell element. If you have a quilt that fits the description of this technique, or if you have a quilt you want to show off in another article, send me a message on Facebook, Instagram or email me at rianne@kickassquilts.org. And of course, you will get full credit for creating the wonderful quilt you did.