Articles in this category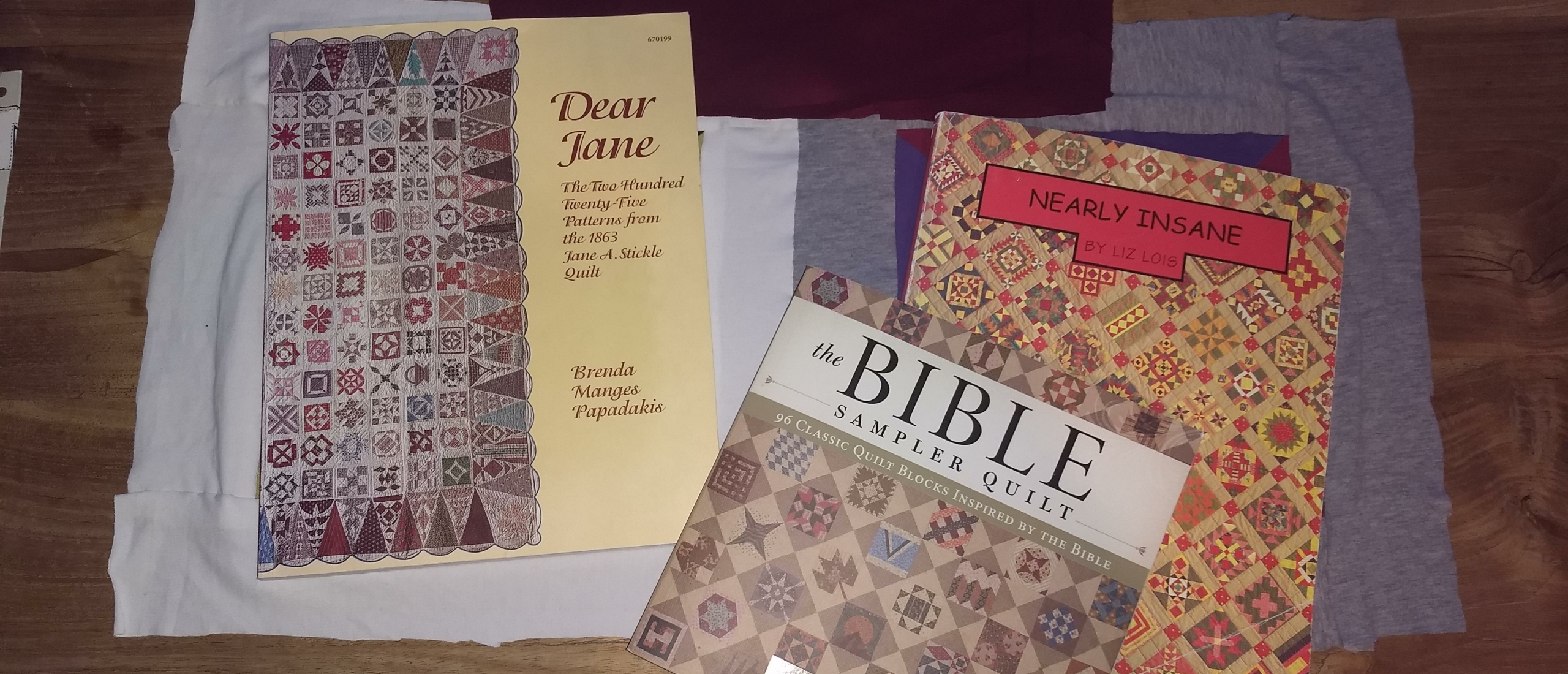 Sampler Quilt: One quilt to teach them all
A quilt Sampler consist of several quilt blocks, each with a unique quilt pattern. In that way, a sampler allows you to practise and show off various designs and quilting techniques.
1. Introduction: What is a Sampler Quilt?
1.1 Origin sampler quilt
The sampler quilt became popular at the turn of the 19th century in America. This sampler was a move away from the medallion style quilt which was popular before. Sampler quilts allow the quilter to construct several blocks before compiling them into a block-style quilt. This makes quilting portable, sharable, and also expands the possibilities for fabric and pattern use.
Below, you see the basic schematics of a block-style quilt. Every green square is a quilt block.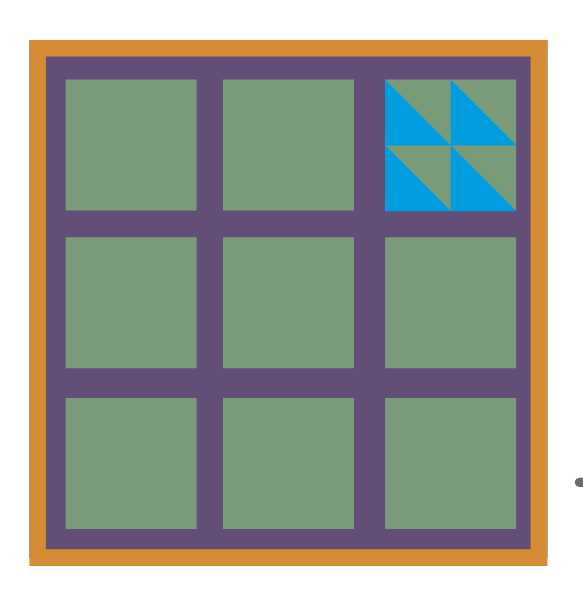 The distinction between a block-style quilt and a sampler quilt, is that a sampler uses a different quilt patterns for every block.
1.2 What is a sampler quilt used for?
A sampler quilt is ideal in the following circumstances
1. To practise a certain design or quilt technique.

For example, the Dear Jane Quilt Sampler you see below how appliquéing, english paper piecing, and patchwork and more!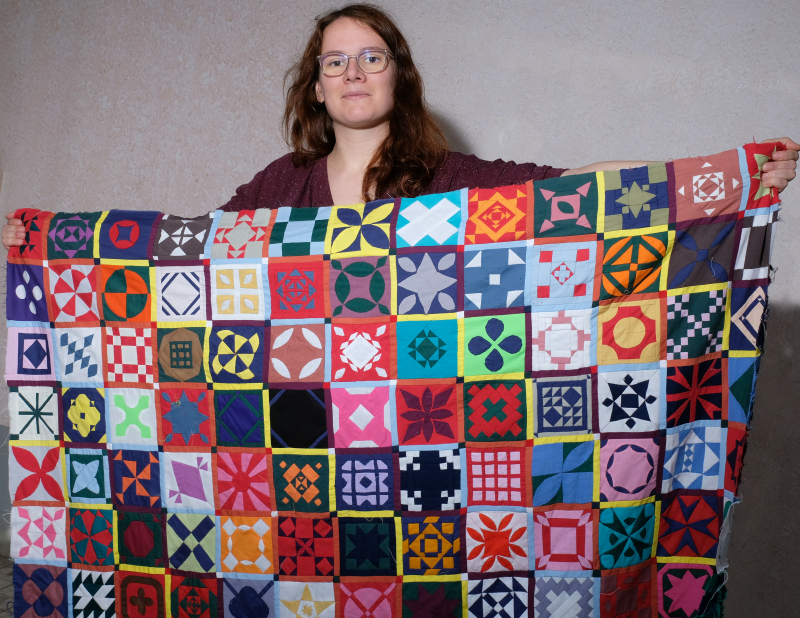 Dear Jane Sampler Quilt of Rianne, @Kickassquilts
Once you've finished a sampler like the Dear Jane, you can consider yourself well on your way to become a skilled quilter!
   
2. As a community project together with friends

Many quilt communities, quilt shops, teachers, and communities host quilt-a-longs where you make a certain design together. Everyone makes the same pattern, but with your own fabrics and colours. It is so much fun to see all the different designs people come up with!
Kick Ass Quilts has a Sampler project too for its members. Find out more here.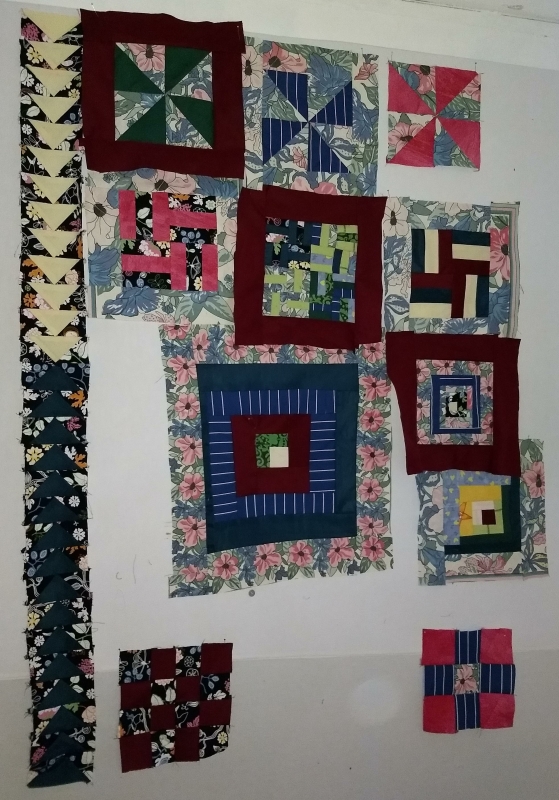 Work In Progres picture 'Lap Quilt Sampler to Save the World' 
3. To show off different quilt techniques or patterns in one quilt.

A Sampler Quilt is perfect to show the variety of quilting patterns in one quilt. This can help to show people your skills as a quilter. Also, this is useful to help people choose the kind of quilt design they'd like.


For example, the Dear Jane Sampler Quilt shows how many variations you can have with quilt patterns

4. To avoid repetition in your quilting process.
Some quilters love repetitious work, others hate it. It took me a while to enjoy making one block more than once! A sampler quilt is ideal for the easily-bored because you only have to make every quilt pattern once.
2. Examples of sampler quilts
2.1 Dear Jane Sampler Quilt
This is a beast. The Dear Jane Sampler Quilt is the most often started, and least often finished quilt. The quilt consist of 225 unique patterns, so least finished is completely understandable! What I love about the Dear Jane is that you can use all different quilting techniques with the patterns.
My Dear Jane is made by hand and I can truly say that it improved my (hand)quilting skills and confidence as a quilter so much!.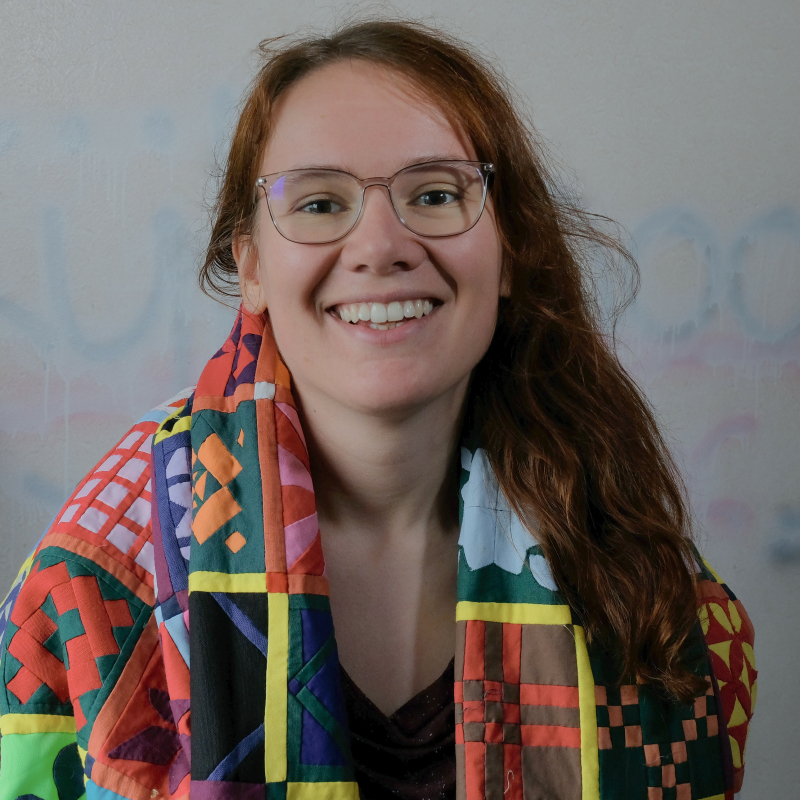 2.2 Kenyan Quilt → Inspired by the Gypsy wife quilt sampler
This Sampler Quilt shows that a block-style quilt doesn't have to have the typical block style look shown before.  You can interpret block-style as straight or free as you want.
For example, my Kenyan Quilt is also a block-style quilt, but based on the Gypsy Wife Sampler Quilt designed by Jen Kingwell.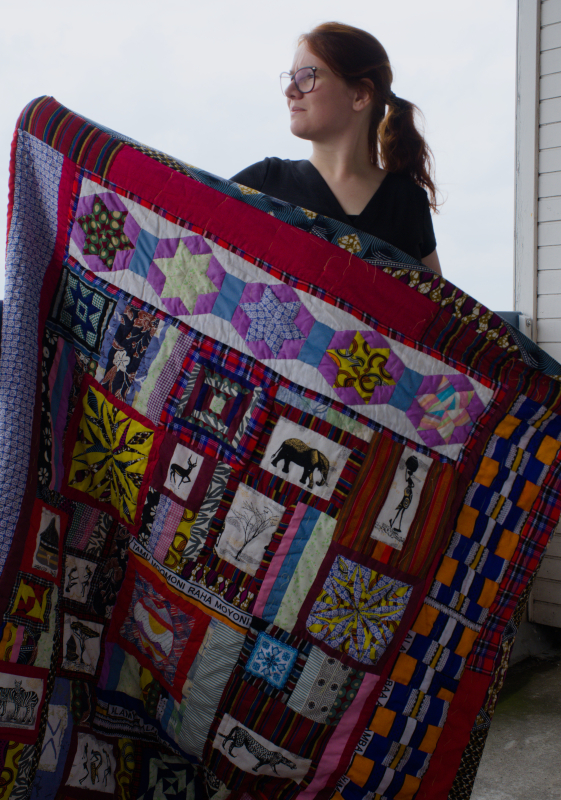 2.3 A Lap Quilt Sampler to save the world
A sampler can also be used to display the use of different kind of fabrics. For example, in the lap quilt sampler of Kick Ass Quilts, there are repeating patterns. This is to allow you to experiment with different colours and fabric use.
The Lap Quilt Sampler challenges you to experiment with different types of old clothes and discarded fabrics for your quilt.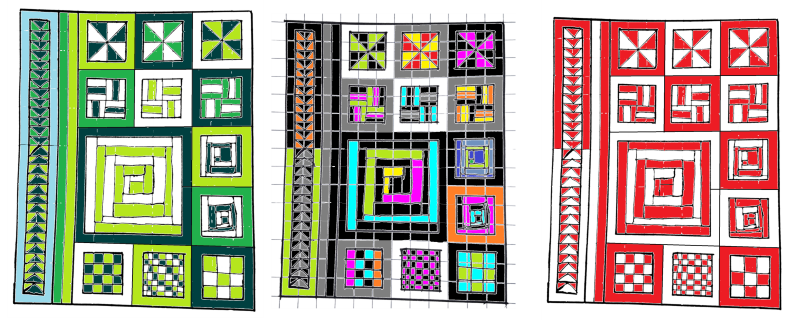 3. Conclusion: Sampler Quilts to show off and learn skills
A sampler quilt is perfect if you want to learn basic quilt techniques or patterns. It allows you to 'sample' without having to commit to repetition.
3.1 Do you have a Sampler Quilt example to share?
Kick Ass Quilts strives to become an online Quilting Bee for quilts made from scraps, old clothes or otherwise upcycled or sustainable fabrics!
If you have a quilt that fits with any of the blogs and articles published, you can hand in a photo to be displayed as an example. Leave a comment, email me at rianne@kickassquilts.org, or send me a message on Facebook or Instagram.
3.2 Do you want to make your own sampler quilt?
Members of Kick Ass Quilts' Quilt College have access to all lessons to make the 'Lap Quilt Sampler to Save the World.'
Our Sampler is geared at beginners or people who want to learn how to upcycle old clothes and discarded fabrics into a quilt. Join our community and learn how to turn trash into a treasured quilt!
3.3 Discussion sampler quilts questions
Leave a comment with your thoughts on the article. Or let's have a discussion with the following questions:
—What is your favourite Sampler Quilt Design?
—Do you like repetition in your craft or not?
References
http://www.roberteshaw.com/samplerq.html