Reduce, reuse and recycle is a waste management hierarchy to help consumers and producers to have the most efficient resource use
1. Sustainability: Reduce, reuse and recycle
One way to reach a sustainable world is to use the resources we have more efficiently. The climate change problem, especially in matters of textile, can be summarized as an overconsumption problem. Therefore, reducing and reusing is part of the sustainability theory of Kick Ass Quilts and part of the '8 assignments to create a beautiful world for everyone'.
This blog is a tutorial to guide you to apply the reduce, reuse and recycle concept to your own quilting process.  I do that with the example of a scrap quilt pillow I made from orphan blocks leftover after making my first quilt.

1.1: What is the waste hierarchy in textiles?
Reduce, reuse and recycle is a hierarchy of the best use of 'waste'. I put waste here between brackets because my invitation to you is to see clothes you can't wear any more not as waste, but as fuel for your quilts.
This picture shows the waste hierarchy. These are not all concepts, I only included the ones relevant to quilting.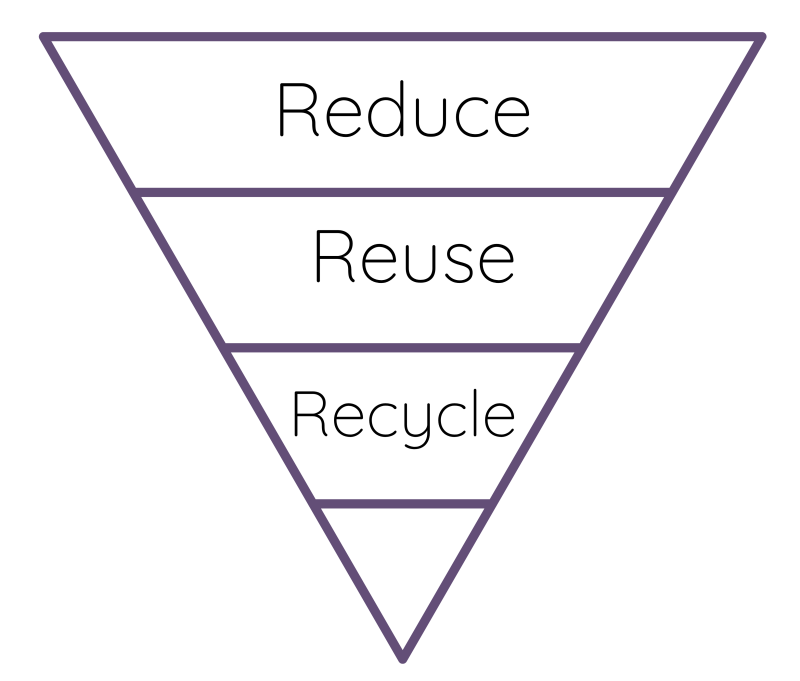 The waste hierarchy in sustainability
Let me summarize the terms for you quickly (I'll dive into them more later in this article):
Reduce: Decreasing the amount of waste created. This by reducing the amount of new fabrics we buy. Check your fabric stash before you buy new fabrics. Also, with some easy design principles, you can turn any kind of fabrics into pleasing designs. You can learn how in my quilt classes.
Reuse: Using clothes and fabrics multiple times. For example, that baby quilt for the crib can also be used as a lap quilt to snuggle under in the evening! Or, a smaller baby quilt can be used as a bed for your beloved pet when the baby has grown up.
Recycle / Upcycle: Turn the waste into a new product. Often, the term recycle is combined with 'upcycling', where upcycling indicates that the new item has a higher value. For example, turning fast fashion items into an heirloom quilt. Another example of recycling in quilts is by turning textiles into very small scraps for the filling of pillows, couches etc.
2. Apply the waste hierarchy to your own quilting
Now, let me show the concept with the help of a pillow project:
2.1: Reduce →Buy less quilt fabrics and tools
This pillow (and the quilt) is entirely made from scraps, which makes it a scrap quilt. I put a call on Facebook for scraps of odd fabrics and many people replied! I got bedding, old pillow covers, scraps from dressmaking, quilt scraps and more.
The scraps became my first quilt, shown on top. And even from the starting day of my quilting, I couldn't do maths, so I had blocks left when the quilt top was done. Those orphan blocks became this pillow.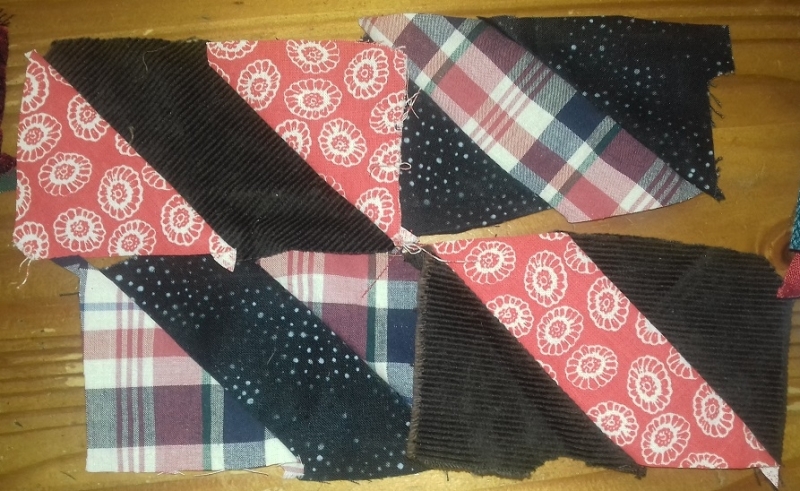 Orphan blocks of the scrap quilt
My suggestion for you is to also go through your home and see what fabrics you have that have no use any more. Or maybe you have friends who love dressmaking, they always have scraps!
For your next project, use those fabrics, and you'd be surprised how much you enjoy already having a history with the fabrics you use for your quilt.
Quilting is what stands between the landfill and wearing a garment
2.2: Reuse: ways to make a quilt last longer
Reuse is the continuous wearing and using of existing textiles. You can facilitate this in quilts by making your quilts washable, multi-purpose, making sure they are in your style, or by trading quilted home goods with your friends.
For example, this pillow has a zipper. So you can remove the inside and wash the pillow. Also, you can mix and match different pillow covers depending on the season and your preference.

Example different colours quilted pillows
2.3: Recycling & Upcycling in quilts: use materials that used to be something else
Recycling and upcycling is using existing materials for something else. The difference between recycling and upcycling is that upcycling means that the new item has a higher value than the older one. Some people prefer to use 'upcycling' to change the mindset on second-hand goods. An overarching term you can use is repurposing fabric, which simply means giving fabrics a new use.
An overarching term you can use is repurposing fabric which simply means giving fabrics a new use
Quilting, to me, is the ultimate way to repurpose textiles. Quilting is what stands between the landfill and wearing a garment. Instead of buying new fabrics, you can have endless inspiration in your quilts by using old clothes and scraps that have lost its previous purpose.
This pillow is made entirely from scraps. The scraps are from curtains, dresses, pillow covers, bedding and scarves and more. First, I used the quilt blocks for my first quilt. After that, I used the leftover blocks for the pillow.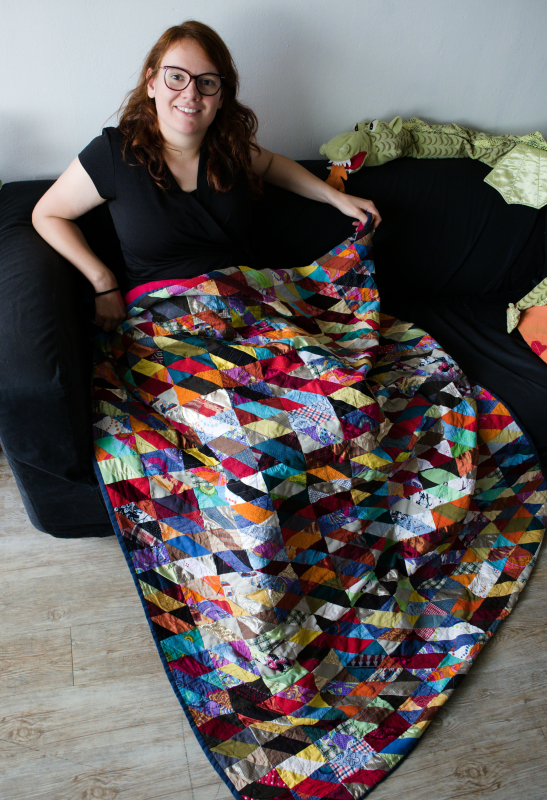 Me and my first quilt
The beauty of using scraps is not only how sustainable it is. Repurposing textiles also means that you, or someone else, already has a relationship with the material. This gives the quilt the little bit extra 'aliveness' that makes them so comfortable to have around.
Any size of textile is repurposable as well. Big pieces in the quilt top, and smaller pieces as filling for pillows, couches and more. Even some materials can be recycled into new fabrics and threads.
One way to reach a sustainable world is to use the resources we have more efficiently.
Conclusion: Apply the waste hierarchy to your next quilting project
My hope is that this article has shown you how easy and fun it is to apply sustainability to your quilting process.  Let me know in the comments if you have any remaining questions, and I'll answer them in a next live session or video. It's my mission to help you become a sustainable quilter.
Let's have a discussion in the comments:
What does sustainability mean to you in your creative work?
What is one of your best tips for sustainability in crafts?
References:
https://thechoice.escp.eu/tl-dr/waste-hierarchy-circular-economy/
https://resource.co/article/new-zero-waste-hierarchy-circular-economy
https://www.innomax.nl/ladder-van-lansink/
https://www.recycling.com/nl/ladder-van-lansink/
https://www.cattermoleconsulting.com/how-the-waste-hierarchy-pyramid-is-applicable-to-textiles/
https://www.ethicalbusinessmarketing.com/blog/climate-change-is-the-wrong-problem