A project to get quilts into the world as well as positive words to make the lives of the owners better. It's a collaboration with Affirmation Billboards
Introduction: Affirmation Quilts by Entropies & Affirmation Billboards
Connection and making other people feel loved and welcome is one of the magic powers of a quilt. That's why the first 2 assignments of the '8 assignments to create a beautiful world for everyone'  are ' come together and share', and 'make quilts for someone else'.
Today I am sharing an interview with Luke Haynes from Entropies quilts. He is making quilts in the spirit of connection, sharing and spreading the love. The quilts are called 'Affirmation Quilts, and their purpose is spreading positive messages into the world.
But even better than me telling the story is Luke doing it himself.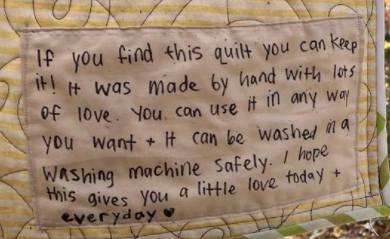 Interview Affirmation Quilts: Luke of Entropies
First off, tell me a little about yourself!
I am an architect turned quilter. I currently live in LA.
Secondly, tell me more about your project with the affirmation quilts
This is a project to get quilts into the world as well as positive words to make the lives of the owners better. It's a collaboration with Affirmation Billboards.
The aim of the project is to give back to the world and make the aggregate humanity better.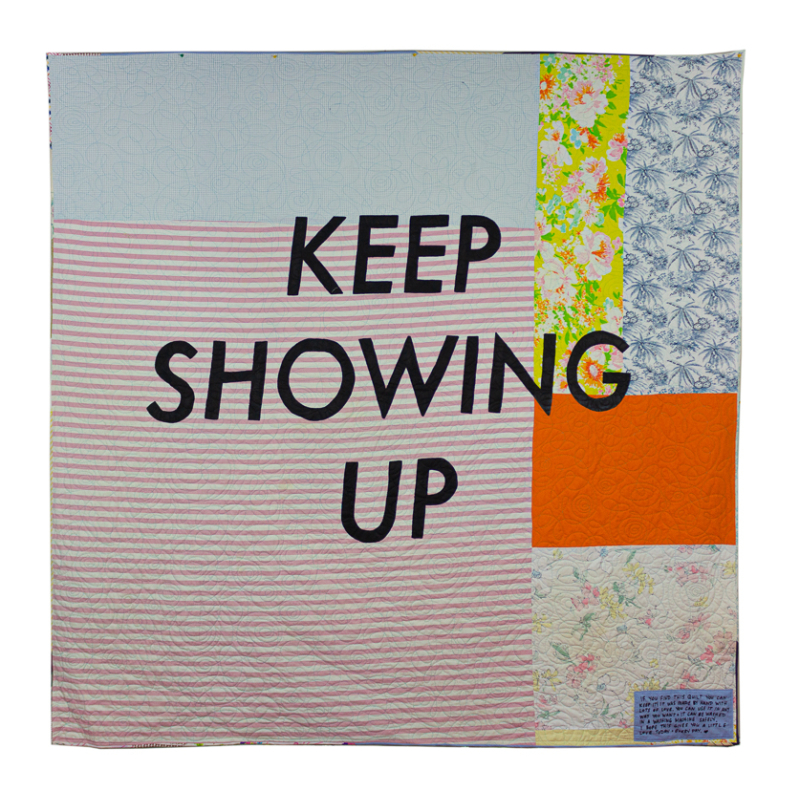 What is the background of the project and why did it start
I wanted to get more work into the world and my wife who runs an anonymous affirmation billboard art practice wanted another platform to share messages.
What is the aim of the project?
To give back to the world and make the aggregate humanity better.
What is your future dream for the project?
I'd LOVE to find a way to get funding and to get them done in every country of the world.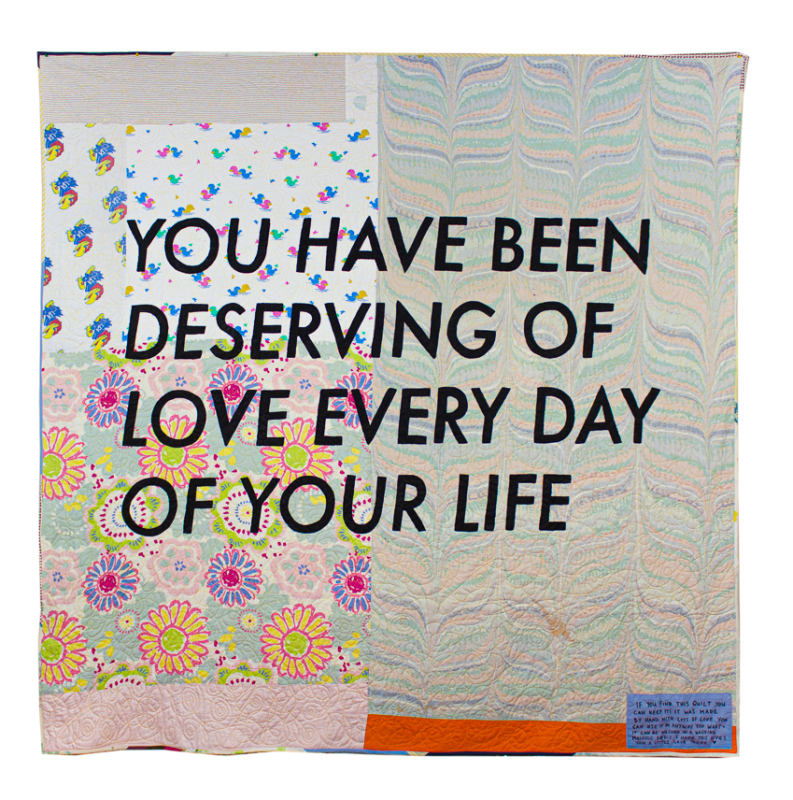 What would you say if other people started to make similar affirmation quilts?
Id say: "HECK YA" The more, the better when it comes to sending good things into the world.
What else do toy want to say about the project?
I think everyone should try one and give it for free into the world.
(And if you're not convinced yet, watch a video here of people reacting to receiving an affirmation quilt.)
Do you have any tips for anyone who wants to start making statements with their quilts?
Try it. do it. make it your own voice.
Would the world be a better place if everyone quilts?
I don't think quilting is the gatekeeper of a better world. I will say that the understanding that comes with a craft based practice really helps people better understand the value of objects and effort.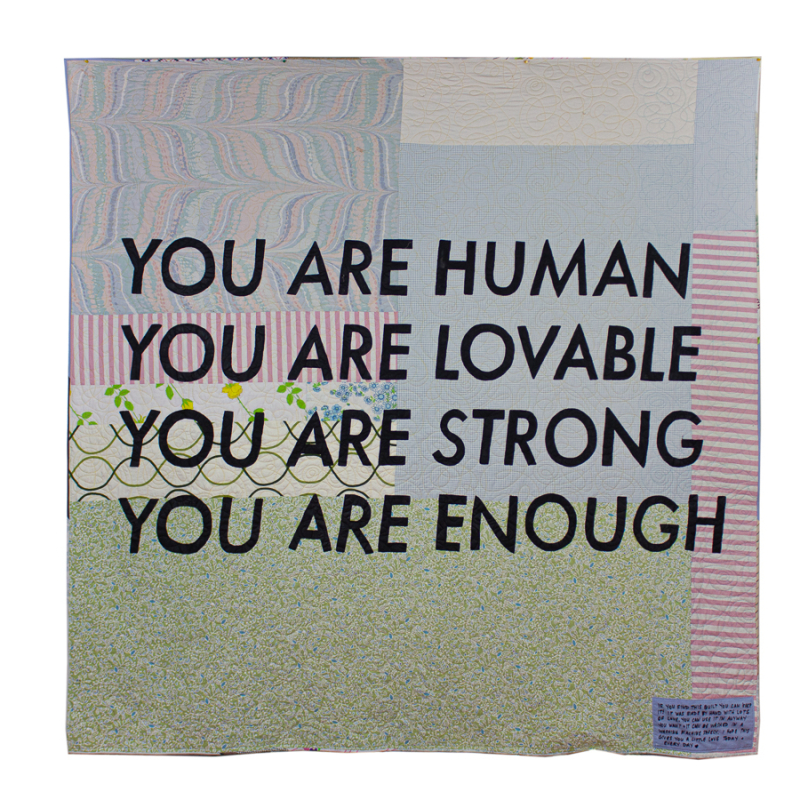 What tips do you have for anyone who wants to start quilting?
Do it!
There are no rules!
If you are daunted, start small and by all means FINISH what you started! There are so many stories about people starting something, then keeping it in a closet for a decade before finishing. Then the next one takes months not years, I say make the first one take months [but no shame if it doesn't]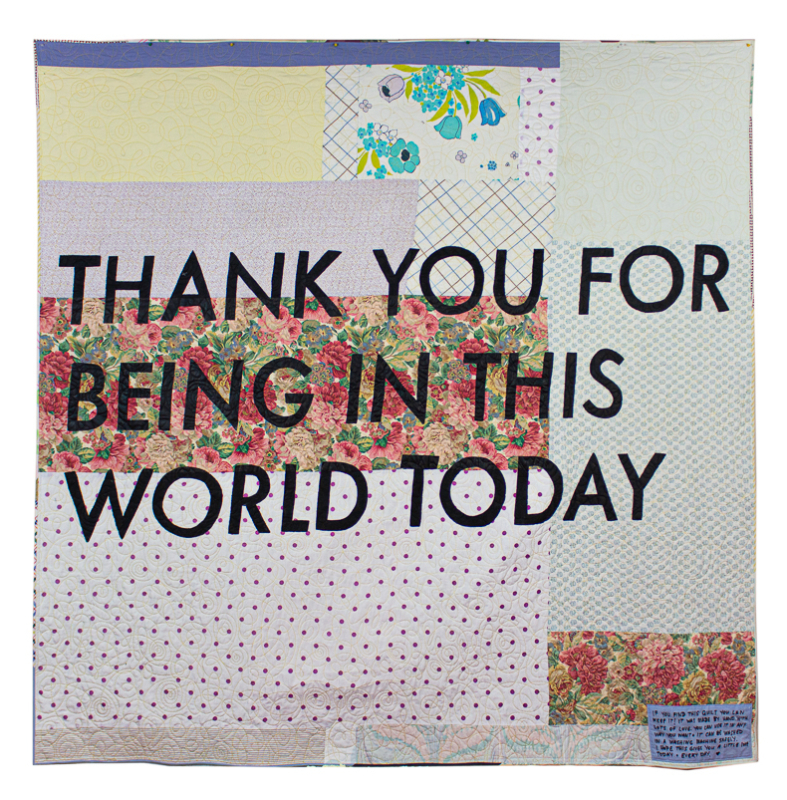 Conclusion: Make your own affirmation quilt!
The Affirmation Quilt project has inspired me to see if I can make some myself! Image the joy someone would feel by finding a quilt in the wild! Are you inspired to start making affirmation quilts too?
If you want to quilt, but you don't know how yet, I agree with Luke that starting small is the best way to go. In my beginner class, 'A taste of Quilting' you learn the basics with a mini-quilt project. The project is a mini memory quilt to make a lasting memory out of some of those clothes you can't wear anymore.
Get the class here:  'A taste of Quilting'
Where to find Entropies and the Affirmation quilts
Discussion:
Would you take a quilt like this?
Would you like to learn how to make a quilt like this?