Let's make a Sustainable Quilt to donate as a welcome blanket
Let's have another day of working on a quilt to donate! 
Where: Kick Ass Quilts studio, Ede 
When:  Friday 29 April From 14.00 to 17.00 
How: Come to my quilt studio and come quilt Price: Pay what you want. 
For Whom: Refugees, or another receiver we can decide on together 
-> Everyone is welcome! Whether you can quilt or not! If you can't quilt, I'll teach you.
-> Also, if you are far away, and you'd like to participate, reply to this
email
. And I'll make sure to go live for a bit during the afternoon.  
(I'm planning to host an online event after this one so keep an eye on my emails) 
What do you need to join the sustainable quilt workshop?
Enthusiasm to have a joyful afternoon with fellow people. 
There is a donation box and online link through which you can support the work of Kick Ass Quilts. Also, you can bring sewing supplies or fabrics  you don't use anymore to use.  
Your donations enable me to keep organizing workshops and activities to create a sustainable world where everyone is welcome.  
Will you join the Welcome Quilt workshop?
Reply  with YES in the comments or email me for the details. 
Looking forward to see many of you the 29th of April! 
ps. Share this blog with your friends and invite them to join too! There are many clothes available to turn into beautiful art to welcome someone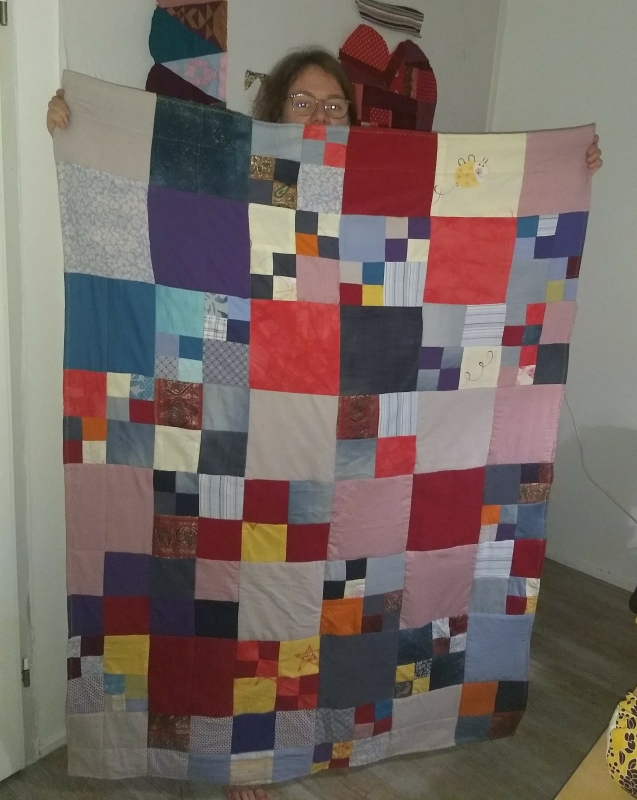 First Kick Ass Welcome blanket made by sustainable quilting students