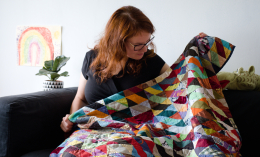 Why a Sustainable Quilting community?
Being part of a community of quilters helps you to explore your creative side. Community is a place to share your ideas, to get inspiration, and to cheer each other on when necessary.
In the community we come together with a common interest in creativity, sustainability, connection, joy, and mindfulness. Also, it is a place to work on challenges together, such as quilting for 30 minutes every day or making quilts to donate.